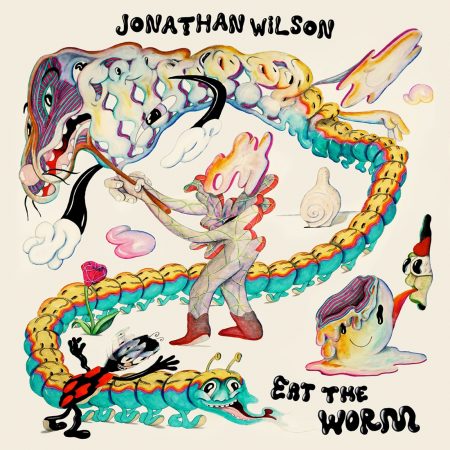 Lots of lovely releases clamouring for our attention this week. Allow Silent Radio to present our weekly guide.
Jonathan Wilson              Eat the Worm   
In addition to guitar and vocal performing with Roger Waters' live band, Wilson has worked as a producer with the likes of Father John Misty and Angel Olsen. 'Eat the Worm' offers him the opportunity to indulge some off-the-wall ideas emerging from his production sessions, the best of which are dazzling.
Congratulations               Woo Hoo            
New Bella Union signing's debut EP from Brighton band who weave between funky and heavy, dancy and doomy, anthemic and aggressive making great companions to label mates Pom Poko.
Super Duty Tough Work                 Paradigm Shift 
Polaris music prize nominated group with a record can be boiled down to having two distinct sides: party and revolution.
Public Service Broadcasting/BBC Symphony Orchestra/Jules Buckley      The New Noise
A remixed and remastered version of the 2022 Prom celebrating the centenary of the BBC.
The Handsome Family   Hallow 
On their eleventh album, The Handsome Family develop new tunes they describe as "Western gothic", its dark, tangled sounds take inspiration from the abandoned strip malls of desert America where "cracked pavement shimmers with heat and thorny weeds slowly reclaim the land".
Cardiacs               A Little Man and the House and the Whole World Window        
Reissued 1987 album from the seminal band with 4 bonus CDs comprised of BBC sessions, live performances, studio sessions together with a casebound 52-page book.
Courtney Barnett             End of the Day 
Instrumental album comprised of 17 seamless improvisations which were originally created as part of the score to the documentary 'Anonymous Club', 'End Of The Day' is a meditative, slow-burning and beautiful record, prioritising atmosphere, tone and texture over traditional song structures and melodic hooks.
James Blake       Playing Robots into Heaven
Sixth album from singer, songwriter, minimalist multi-instrumentalist.
Glorious Sons                    Glory    
Canadian JUNO award winning band that makes lyrically driven, unpredictable, thought-provoking anthems for the socially conscious.
Yussef Dayes      Black Classical Music     
Multi-instrumentalist with collaborative jazz and groove-based sound.
VC Pines              MRI       
Alt-soul, singer-songwriter with an album which tells the tale of "someone struggling with mental health, juggling relationships, friendships, addictions and emotions, while being a creative person."
Roisin Murphy                  Hit Parade          
Murphy joins forces with DJ Koze to produce the warm thump of hip-hop, playful psychedelia, and elegant soulful grooves.
Anjimile              The King              An album of curses exploring what it is to be a black trans person in America.  Drawing from influences ranging from religion, Phillip Glass, and lived experiences, almost everything comes from two instruments: acoustic guitar and Anjimile's own voice.
Childe                   Stoned and Supremely Confident           
Male singer-songwriter who draws influence across a wide range of artistic cultures – from modern literature to abstract painting, from FKA Twigs to Grayson Perry.
Pauline Hogstran             Áhkká  
Titled after the queen mountain of Lappland, the album consists of 2 side long drone pieces from the Copenhagen-based composer who utilises extended structures for analog and digital synthesis and processed acoustic instrumentations – strings, recorder, pipes and field recordings.
Olivia Rodrigo                   Guts
Grammy winning artist with new album about growing pains and trying to figure out who she is at this point in her life.
John Fahey          Proofs & Refutations     
Recorded in 1995/96, Proofs & Refutations is an iconoclastic set played with freedom.
The String Cheese Incident         Lend Me A Hand
Colorado-bred six-piece that handle everything from bluegrass to dubstep to psychedelia with equal parts abandon and ingenuity with reflections on love, loss and resilience.
Fire Down Below             Low Desert Surf Club    
Ghent-based stoner rock quartet embracing the contradictions of a Belgian band making a record about the Californian desert.
Sparklehorse     Bird Machine    
Posthumous release of an album Mark Linkous was working on at the time of his death in 2009.
Everclear             Live At The Whiskey A Go Go
Album spanning their 30-year career.
Mauve & Quinn                Another Door   
Alaskan twins who play play guitar, violin and piano fuse alt rock, folk, and pop that's accentuated by blood harmonies and dynamic interplay.
Echo Ladies        Lillies   
Malmo based shoegaze, dreampop trio named after Echo and the Bunnymen's drum machine incorporate more synth and electronic elements on their second album.
The Hails             What's Your Motive      
Miami band blending elevated riffs, brazen lyricism and Latin rhythms.
Naoko Sakata    Infinity
Gothenburg-based artist with lush piano improvisations.
CLT DRP                Nothing Clever Just Feelings      
Feminist electro-punk trio discoursing on themes of queerness and heartbreak, each track explores the raw emotions that come along with these lived experiences,
Nasty    Heartbreak Criminals    
Belgian-German aggro punk playing fucked up music for a fucked-up world.
Nick Shoulders                 All Bad 
Spanning a variety of early country styles, the album's rallying cry "Won't Fence Us In" shines alongside everything from jangling Cajun waltzes to surf-rock infused bluesy ballads.
Herkedal             When Heaven Calls        
EP from Norwegian artist whose soaring soulful voice saw him win the IDOL TV show in his home country.
Tyer Childers     Rustin' in the Rain          
A collection of songs he playfully pieced together as if he was pitching a group of songs to Elvis.
CR and the Nones            The Ghosts are Coming Home   
A hybrid of folk, country, punk and heartland rock.
Temps                   After Party EP   
Five tracks from James Acaster's improv band recorded during the same sessions as their Party Gator Purgatory album but these have a more menacing edge.
Nico Muhly        David Hockney: Bigger & Closer (not smaller and further away)
Composer and pianist, Mulhy, has created a specially composed score for the Light Room Exhibition which elevates Hockney's visual artistry to new heights, infusing each masterpiece with depth and emotion through music.
Mirror Tree        Mirror Tree       
A mishmash of Supertramp and King Gizzard & the Lizard Wizard, tapping into Spaghetti Western soundtracks and Tropicália.
Harry Stafford and Marco Butcher           We Are the Perilous Men            
Inca Babies founder with a burst of swamp trash blues, post-punk devilment.
The Folk Implosion         Music for KIDS  
Deluxe reissue of Lou Barlow's original compositions for the movie.
Starmen               Starmenized     
Fourth album from Swedish band who set out to make a record to all the heroes from the 70's and 80's classic rock-scene. Part of the tribute to the old rock icons was to create a grand gimmick around the band, where each member has their own colour and wears a makeup-star on their face.