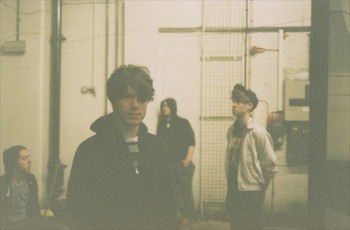 Art pop architects Breton are releasing a stunning new video to accompany their new song 'The Commission'. It was directed by BretonLABS and Stuart Sinclair, a motion graphics artist who makes computer generated clips of space and satellites. The actor is Patrick Lyons, a beat poet from Boston – and legend on the south London squat party scene. The pair met when Breton started out and regularly played the squat party circuit.
'The Commission' is taken from Breton's forthcoming debut album, 'Other People's Problems', due for release in February 2012 on Fat Cat Records. It's the follow up to their critically acclaimed 'Counter Balance' EP, which was released in December last year on Hemlock, the specialist label responsible for launching the careers of James Blake and Fantastic Mr Fox. The EP was lauded by the blogs, raved about by the likes of Dazed & Confused, Clash and The Fly and championed by key tastemakers at radio, in particular Mr Huw Stephens.
Under the moniker BretonLABS, the band have delivered innovative remixes for Local Natives, Tricky, Maps & Atlases, Tom Vek, Temper Trap and made videos for Penguin Prison, 80's Matchbox B-Line Disaster and Flats.
Breton recently supported Tom Vek at The Ruby Lounge as part of his sold out comeback tour of the UK.