For anyone who doesn't know who Mark Lanegan is, you're an idiot he co-wrote Queens of the Stone Age's 'No One Knows', one of the best rock songs of the noughties. And that's just one of a myriad of activities he has undertaken since his Seattle rock band Screaming Trees petered out.
Indeed, it's hard to keep up with Lanegan's various music ventures. He rivals Jack White in terms of output and variety of collaborations. And quality. For now though he is operating as the Mark Lanegan Band, whose last release was the excellent Blues Funeral album from 2012. Like most of his work, it was largely overlooked. Question: QOTSA aside, why have I scarcely heard a Mark Lanegan song on BBC 6 Music?
The five tracks that comprise the No Bells On Sunday EP represent something of a tangent from Lanegan's more usual bluesy rock sound. With its thumping beat and electro effects, opener 'Dry Iced' takes its cue from the similarly dancy Blues Funeral album track 'Ode To Sad Disco', which sounded like it could have been written by Moby and surprised a few people on its release. Elsewhere, 'Sad Lover' is a driving rock-dance hybrid.
The best thing here is the memorable title track, which is pure chill out brilliance. Less good is the mournful and slightly dull 'Jonas Pap', the tale of a "maniac" and "brave man". It's surely not about the (semi-)famous cellist of the same name. Or is it? Either way, it's only a blip: closer 'Smokestack Magic' is a sprawling, dark epic, Lanegan growling over a flowing mix of processed sounds. It clocks in at 8 plus minutes but does not drag.
Throughout this EP, Lanegan's weathered voice is as arresting as ever, sounding every bit as good as it did 15 years ago. Like Leonard Cohen's, one suspects that it will only get better with age.
A new full album, Phantom Radio, will be released in the autumn. If we are to assume that Lanegan has not used up all his best songs here, that album is going to be well worth a listen.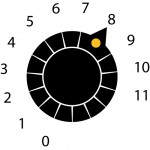 Release Date 25/08/2014 (Heavenly)
Mark Lanegan Official | Facebook | Twitter | Soundcloud