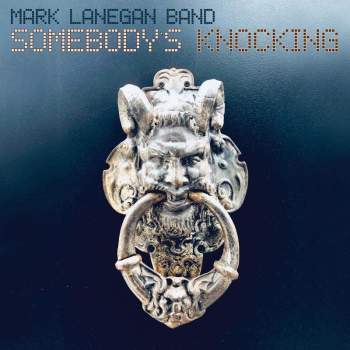 What would you get if you crossed the husky deep vocals of a rock bluesman with dark synth pop, the answer is the new Mark Lanegan album 'Somebody's Knocking'. Lanegan stated on the press release that he's been into Joy Division, New Order and electronic music all his life, even before his days in seminal 90s rock band Screaming Trees, and always wanted to make a more electronic album, and for his eleventh studio album, it finally feels as if he's letting his inner electro-pop love take the reins.
Not that the raw visceral impact of Lanegan's vocals or powerful rock riffs have disappeared, far from it. Opener ''Disbelief Suspension' rocks with a swagger and menace that Lanegan does so well, as does 'Gazing From The Shore' with its enticing melodies.
'Nighflight to Kabul', has Lanegan's deep vocal tones nestling over a Depeche Mode-esque backing of synth and guitar riffs, which continues on 'Dark Disco Jag' with its echoey guitars and electronic drumbeats.. Tracks like those are a far cry from the raw rock n' roll or folk tinged tunes found in his other solo works such 'Whisky For The Holy Ghost' (1994), Bubblegum (2004) and even on his last solo effort 2017's 'Gargoyle' but that's what keeps his albums so refreshing. You know the amazing vocals, and dark lyrical themes will be there but this time it he's been digging out the New Order, Depeche Mode albums for inspiration.
There's the synth pop meets rock fiesta that is 'Stitch it Up', which is one of the best tunes on here, euphoric and fierce, it charges along like an electro fuelled rocket, and the New Order-esque 'She Loved You' with its pulsating basslines, synth riffs and electronic drumbeats.
Lanegan has one if the most distinctive voices in rock, one that's lived a thousand tales, and has a warmth to it, fused with a bittersweet edge, like a resonating creature from the depths. The vocals take centre stage for the hauntingly beautiful 'Playing Nero' with its slow synth ambience, which seems to take its cues from Joy Division's 'Atmosphere', and the equally sedate and dreamlike 'Two Bells Ringing At Once'.
'Somebody's Knocking' was co-written by Lanegan and several others, including Martin Jenkins, who releases his own records as Pye Corner Audio, and through these collaborations, Lanegan has managed to redefine what you thought he sounded like. An exciting electro infused triumph of an album.
Mark Lanegan: Somebody's Knocking: Out Now (Heavenly Records)