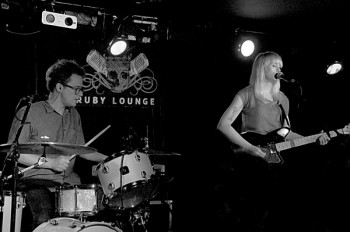 – THE RUBY LOUNGE, MANCHESTER –
The loudest thing in music must be the 2 piece rock band. The White Stripes managed to make my ears bleed from the other side of a field in Leeds, The Black Keys had Manchester Academy shaking in it's foundations and I remember The Kills forced the keen ones at the front to retreat in The Methodist Hall.
I spent the first couple of minutes of the Wye Oak gig stopping glasses from vibrating their way off the shelf beside me. The Ruby Lounge's sound system is serious. Amps are stacked either side, floor to ceiling with the new raised stage, open plan and lighting giving the audience a much improved view. Jenn Wasner, vocalist and guitarist, compliments the underground venue as "a perfect place for rock." She even offers to do their laundry.
A respectable crowd has gathered for a Monday night. Debut album 'Civilian', which was released in March, contains (in my opinion) hit after hit, each with it's own personality making it distinguishable from the rest. Jenn is free to grind massive riffs from her Fender, with half the stage at her mercy. Andy Stack sits in his musical booth, surrounded by drum kit, drum machine and keys. He doesn't look like your typical rock drummer, breaking occasionally between beats to push his glasses further up his nose and thank the audience for "being so quiet". He occasionally stands to give himself more power when smacking the skins close to breaking point, while his smart shirt slowly soaks up a torrent of sweat.
Jenn is decidedly more 'rock.' She's dressed in red and black, an illustrated lit candle is tattooed on her arm and she has striking blond hair, which she enjoys throwing around. Her voice is deep, confident and empowering with a Baltimore twang, but also shows signs of frailty when necessary.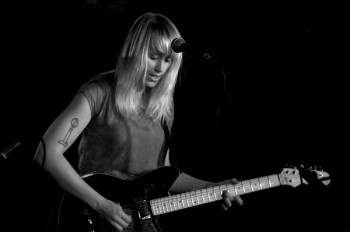 'Holy Holy' gets things going, the sound is incredibly loud but perfectly balanced. 'Hot As Day' maintains the pace before the superb 'Dogs Eyes' and personal favourite, album title track 'Civilian'. We're treated to a new tune from a currently nameless forthcoming album; keys feature more here with a tasteful 80's, stop/start feel to it. We get a groovier version of 'That I Do' and although she restarts 'I Hope You Die' three times after forgetting to retune, the final full version is well worth her persistence. The crowd clap and cheer between songs at an impressive volume, considering the head count.
Jenn and Andy fist bump before the drummer departs, leaving the last tune for the lone singer. She speaks just as poetically as when singing, straight from the heart, stating how grateful she is that so many people have come to see them and reiterates a desire to return. 'Doubt' is played tenderly and emotionally. I only hope that their possible return in "November" will be rewarded with a deservedly sold-out audience.