Each week, one of our contributors will recommend an artist/band they think deserves to be brought to your attention. No record labels, PR companies, bands or bands management will ever have made these recommendations. It is simply one music fan putting their taste on the line in the hope of sharing good music. The questions are intended to give just a basic introduction to possibly your new favourite artist/band.
So without further ado, let's crack on with this week's introduction, in which Silent Radio editor Simon Poole recommends Machine Boy for your audible delectation.  
*******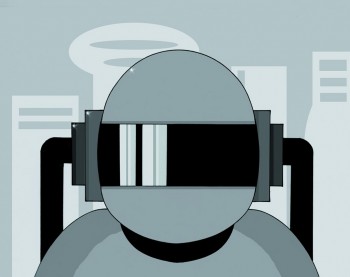 Who are ya?
hello…I am machine Boy and I DO electronic musac & animation stuff!
Where you from?
originally from that good ole place called Plymouth now residing in the
'riot centre' of the universe Birmingham in the YouKay!
How long have you been doing what you are doing now?
phew…..a loooooooooooong time….can't remember when I started
but twas a long time ago!
Is being a musician your full time job? if not, what is?
for a number of years I was once a pro musician, well not really a musician…A DRUMMER!!
but now I would say I am semi pro!…I do other stuff as well!
How would you explain your sound to someones 90 year old grandmother?
well first I would say, shouldn't your grandma be listening to Matt Munro, I'm sure she
would think he kicks serious ass…in a kinda 90 year old grandma kinda way obviously, but hey if I really
had to pigeonhole myself to this very hip(!) grandma of yours, I would say Machine Boy is
a lofi'animated'electro artist with a humanitarian agenda!, I'm guessing she would be none
the wiser…BUT hey wot'r'ya gonna do!
Are there any obvious influences in your music?
Obvious! erm…not really, maybe!?….but Yeh there are many influences!…Kraftwerk, Jean Michel Jarre, Tangerine Dream, Klaus Schulze, Eels, Beck, Sonic Youth, The Ramones,
Beck, Money Mark, JSBX, Boards Of Canada, Squarepusher, popol Vuh, Cluster, voivod, motley crue…..with a sprinkling of 8bit,
they all sit in there somewhere nicely…but quite where, I haven't yet worked out!
Apart from yourself of course, what other band artist would you recommend our readers to check out?
See all above…all wonderful every last one and in 'as yet not very well known land!' I would say Gary Hunter,
Tenek, Nullsleep, Future Daze….and probably many if I got my had into gear!….!
Best place for people to find out what you are up to?
http://www.machineboy.co.uk/ I giva away lotsa music on there and there's always a few things to buy if that floats
your boat in this sad world of 'We want everything for nuthin!'
Anything to declare?
erm….Not really!!…why?