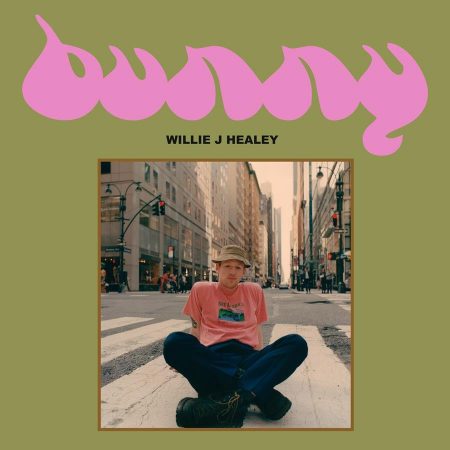 'Bunny', the third album from Willie J Healey, has a timeless quality. It conjures tunes blaring from the radio on carefree sunny days during childhood but manages the precious knack of sounding reassuringly familiar yet fresh. There are distinct echoes of the 1970s in some of its reference points (David Bowie's relatively unknown 'The Gouster' album which eventually morphed into 'The Young Americans' and only received an official release in 2016, Philly soul) but laced with a modern sensibility.
The album's thirteen tracks are infused with a sweet positivity, often about love, personified by opening track 'Woke Up Smiling' which starts out as a country rock stroll before introducing gospel backing vocals on the chorus, pointing to one of the album's great strengths. It was recorded in New York by Loren Humphrey and features a band who have performed with musicians including Beck, Lana del Ray, Arctic Monkey and the quality of the performances are always in service to the songs but enhance them considerably.
'Dreams' is the first representation of the pop funk crossover tip that runs through 'Bunny', a song that balances in a territory inhabited by Sly and the Family Stone or 'Midnite Vultures' era Beck. The intriguingly titled 'Tiger Woods' appears to have little connection with the initially successful but then troubled golfer but is a slinky slow funk piece decorated with Healey's ridiculously good falsetto and its soothing connection with the backing vocals.
There are plentiful individualist quirks to 'Bunny' exemplified by the combination of classic songwriting and oddness of 'Thank You' which sees him giving thanks to Jamie T for the long-term loan of his drum machine before going off on one of his more unlikely lyrical tangents with references to Sham 69 and pork scratchings. It is reminiscent of Ween in the way it teeters on the edge of pastiche without succumbing. 'Bumble Bee' also utilises that drum machine as well as throwing in a wonky synth break that recalls Metronomy.
With its strummed guitar, backward masking, keyboards and backing vocals 'Black Camaro', feels especially chilled and is one of numerous car references and metaphors which do get slightly jarring to the environmentally conscious listener. 'Chrome' could be a Prince ballad while 'Late Night Driving' starts with the sound of keys in the ignition before heading off on a smooth journey.
'Sure Feels Good' beams with appreciation and over the top imagery ("throw me down your hair / and I'll climb right through"), echoes of solo era John Lennon (whose influence was dotted much more thoroughly through his debut album, 'Twin Heavy') in his vocals and how he calls and responds with the backing singers.
'Little Sister' takes time off from the idyll to take a more critical approach with its references to "Sad little druggos… you were scoring but you ain't winning… if you ain't living how you want to / you're as good as dead" and rockier guitars. In contrast, 'Morning Teeth' has a slower pace, mournful brass, questions "what the fuck is going on" and suggests that the bubble has burst with its air of disappointment and lack of self-care ("a sad sentence evening hair and morning teeth").
'Bunny' closes with 'Bluebird' which might be acknowledging the Beatles in the title being a colour away from their 'Blackbird' but feels more like their friend Harry Nilsson at his most focussed. It completes an album so packed with potential singles that it could almost be a greatest hits compilation.
Willie J Healey: Bunny – Out 25th August 2023 (YALA! Records)