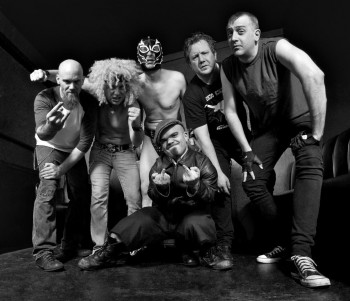 – MOHO LIVE, MANCHESTER –
It's my first time down at Moho, and I'm pleased to see that in the apparent current trend, there is another thwacking great pole right in the view of the stage. Good times. But there's more… there are stairs. That don't go anywhere but up… hmmm.
Anyway, first up on tonight's line up is TROJAN HORSE. All in check shirts in an almost uniform fashion aside from the drummer, their sound is one that can only be described as one with a severe split personality disorder it would seem.
Starting out with screaming vocals, visceral and thrash heavy, the same song then turns into an ambient sound-scape of echoes and nonchalant wistfulness before turning up the 'Mr Hyde' dial on the ears once again.
A main-stay of their set list, they do a cover, in part anyway, of James Brown's 'Get Up' with a definite Rage Against the Machine-esque tinge to it.
You can hear this band's influences straight away, and would certainly consider themselves pretenders to the likes of At the Drive In and the afore-mentioned RATM. There is still a lot of ambiguity going on in the songs though, and the finale is more of a 'jam session', a strange mix of reverb, feedback and an unnecessary harmonica part.
Altogether though, a little less confusing than the last time we saw them, however they still seem too keen to please, fusing so many different styles together in one song. They put me in mind of a teenage boy making any promise he possibly can in order to get his hands on some candy. Which is kind of what a Trojan Horse is for isn't it?
There's a lot to get through tonight so it isn't long before dance/punk act KIRT DIRT & THE BAD TASTE BARBIES are up onstage.
For those who haven't witnessed this band before, I hear the audience utter amongst themselves 'Jesus Christ it's Lily Savage', as Kirt Dirt himself joins Crystal Grenade and Co to the sounds of 'Dead Camp Disco'.
Trashy, wacky and a lot of fun, they bounce and frolic about the stage like Saturday morning TV presenters from the 80s (if there was ever one hosted by Wayne/Jayne County that is).
Their sound is heavily influenced by the B52s/Peaches/Beastie Boys and use pre-recorded sound bytes and beats to accompany their already hard working guitar section. For me the band is more about visual aesthetics, although Crystal Grenade certainly has a very distinctive vocal not too dissimilar to Slits singer Ari Up, but visually they are in their element.
They break into 'Working up a Sweat' and a fat man with a beard, clad in lycra joins them for some onstage lunging, later in a gorilla mask and gimp outfit.
Other highlights include 'Zieg Heil Jeremy Kyle' which is a hilarious pastiche on the way society allows itself to be dictated to, whilst delivering it through this ultimately trashy but unconventional band. We are laughing, but they are laughing at YOU! (Society that is, I'm not singling anyone out)
Another quick change over ensues and GIRL SPIT are on stage, direct to us from Doncaster of all places.
Girl Spit are a much more cohesive band than the previous two this evening, producing pounding, primeval drum heavy beats, punchy heavy metal type riffs and snarling vocals from the singer, who reminds me a little of 'Black Flag' singer Henry Rollins but after he'd been 'Dame Edna'd'.
Posturing with coiffed pink hair and sunglasses he creates a little bit of juxtaposition for himself, looking every bit the styled, well turned out front man whilst delivering such vicious vocals. Their songs are hypnotic, sleazy and intoxicating, and at times, have the speed of Motorhead in 'Happiness' and at others, the seduction values of Led Zeppelin in 'The Bottom of the List'.
Hugely enjoyable and talented band with great promise. I hope they come back to Manchester again soon.
Finally tonight's highlight arrive on stage and I can't help but notice the fans are at least a foot away from the barrier, which is approx a foot away from the stage. Maybe they know something I don't?
THE DWARVES march on to the theme tune from 'Mighty Mouse' and immerse us all in the full on aural assault that is The Dwarves. After the first two songs, singer Blag Dahlia asks the crowd, 'Why don't you do that dance where you all punch each other?'
The power of suggestion comes streaming through the audience who begin doing just that, creating a mosh pit fit for the most amount of crowd surfing I've ever seen. Unrelenting, high speed garage punk, playing song after song including (the ones fit for printing anyway); 'I wanna get high', 'Act like you know' and 'Thrash city'. All this while one guitarist happily throws his guitar around his head, whilst another dips his into the crowd for fans to claw at.
HeWhoCannotBeNamed is not on stage at first, but joins us towards the end of the set, clad in wrestling mask and thong before throwing himself into the crowd a couple of times, joining Blag Dahlia in the wave of arms held aloft by adorning fans. They leave the stage to the Looney Tunes 'That's all folks' and I feel pumped.
I drove to this gig, but it doesn't feel like it. The pounding drum sound beating on my chest cavity coupled with the insane intensity of the delivery of their set has left me feeling like I was in the mosh pit, rather than being an observer, I really, really felt it.