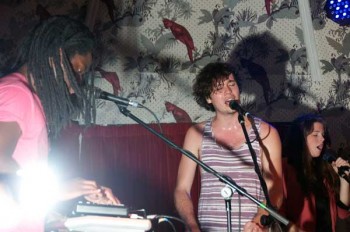 – DEAF INSTITUTE, MANCHESTER –
I found it difficult to tear myself away from the live news coverage, tonight. Watching businesses in London with families living above, being looted and then torched, didn't really put me in the mood for a gig. But, as they say, the show must go on.
Star Slinger has the unenviable task of trying to raise the spirits of a tentative crowd, as a majority of punters at this sold out gig have arrived early to catch his set. Darren Williams works hard on his laptop and Akai MD32, rapidly triggering compositions that he assures are of his own creation and not the product of some "crazy DJ".
Machine gun snare and deep kick drums reinforce top heavy soulful vocal samples. Muso nerds (including myself) wrack their brains in an attempt to place the origins of the array of sounds, most noticeably from Gold Panda, Musical Youth, A Life Without Buildings and (possibly) 'Snap' by Cleo McNett, which was used by DJ Shadow on 'Why Hip Hop Sucks in '96′. His tunes are skillfully and seamlessly blended into each other, leaving impressed onlookers with no window for applause.
A bit of vocal encouragement and liberal use of the f-bomb provokes some dancing and "Pass The Dutchie" has friends turning to each other to share a respectful nod. The mood has successfully been lifted and appreciation for Star Slinger's fine efforts are warmly shared.
The five members of Washed Out bound on stage amongst the sample of howling winds and a duet of tambourines quickly picks up the pace for the floaty light vocals of sweaty, vest wearing Ernest Greene. The sound is perfect, the live drummer pummels the skins, the bassist narrowly avoids clocking a keys player with his instrument while swinging to their "reggae" tune 'Before'.
The album 'Within and Without' is generally more chilled and has now been cranked up a few notches, with the help of older tunes, to create a vibrant dance floor atmosphere. The floor is literally bouncing, we sing along to 'New Theory' and get sucked in to the highlight for me, 'Amor Fati'. 'Feel It All Around' has the placid power to prevent a riot, there's a general sense of well being throughout this dreamy and spaced out soundscape, which offers a safe haven for Mancunians who fear the looting and arson will spread to their beloved city.
Lyrics like "sky", "high", "sigh"? appear regularly, they remind me of Moby, Memory Tapes, Blue States and occasionally Underworld at their lightest, but with words of inspiration rather than random poetry. Steve Miller's 'Fly Like And Eagle' and All Seeing I's 'Walk Like A Panther' pops in there, as well as Rod Stewart's 'Do You Think I'm Sexy'. Maybe I should stop making comparisons. They give us a new tune which was written on the road and depart the nervous city with an energetic encore, followed up by generous and deserved applause.