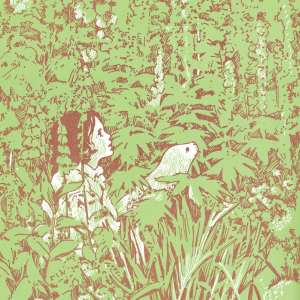 Probably the quietest week in terms of volume since early January but there are some tasty releases nevertheless.
Candy Claws      Ceres & Calypso In The Deep Time          
Tenth anniversary reissue that warranted a fanfare first time round. Candy Claws craft traces of Broadcast, The Left Banke, Blonde Redhead and Tropicalia into an eye-popping sound while the album follows the journey of a girl and a seal through the Mesozoic era.
My Ugly Clementine      The Good Life   
Vienna trio with indie rock that blends grunge-heavy 90s guitars with a soaring chorus to impressive effect.
Laura Groves     Radio Red          
Groves' produces experimental and off-centre pop music and electrified folk music on an album that deals with themes of communication – missed and intercepted signals, chance meetings, synchronicities, the channels through which we try to express our true feelings, the outside interference that can get in the way and the joy of letting go and allowing the messages to flow freely.
carina    after the stars EP             
London pop artist with an introspective trip into her mind and mental health struggles.
Bonnie Prince Billy          Keeping Secrets Will Destroy You            
An album making a virtue of the forgotten art of musicians playing in a room together and shifting seamlessly from classical to Japanese acid folk and many points in between.
Syteria                  Syteriaworld     
Band featuring Jax from British heavy metal legends, Girlschool (inexplicably a pointless answer on a recent episode of the quiz show of that name), but with a more melodic punk sound.
Datashock           Geltungsbereich Universum      
Eighth album from band whose style is a combination of krautrock, space rock and experimental.
Andy Frasco & the U.N                  L'Optimist          
A wildly eclectic approach navigating funk, jazz, surf rock, blues, swing, gospel, reggae, exotica, and more with horn-blasted positivity and soulful power on an album with lyrical themes of spanning relationships and chronic depression, empathy and alienation.
Cordovas             The Rose of Aces             
A communal living band influenced by Allman Brothers, Grateful Dead and the Band.
Brin and Dustin Wong    Texture II            
A slippery (often wetly sounding so) and satiating record, melding jazz, musique concrète, ambient, and a certain post-internet sincerity.
Forces                   Chimaeras         
A journey through short-circuiting 8-bit dream ambience to fractured digital groans, drones, and noisy freakout.
Karol G                 Manana Sera Bonita (Bichota Season)   
Latin Grammy winner who appeared on the Barbie movie soundtrack offers uplifting Latin dance anthems.
Ez Mil                    DU4LI7Y: Redux
Filipino-American singer-rapper whose album includes a guest appearance from Eminem.