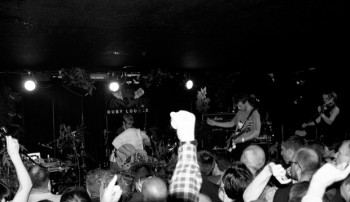 – THE RUBY LOUNGE, MANCHESTER –
Krankenhaus Mankenhaus! British Sea Power take the fun and frivolity of their monthly Brighton residency on tour as they venture north for the first Krankenhaus to be staged outside of East Sussex. The intriguing line-up includes a DJ set from Duncan of Dutch Uncles, a ventriloquism act from locally based BBC 6 Music radio hero Marc Riley, and a raffle.
Previous support bands for this series include the red hot Savages, Y-Niwl, Palma Violets and Bo Ningen. Tonight, Londoners Toy return to Manchester after sell-out success at Soup Kitchen back in April. Colourful psychedelic 60's shirts and rock haircuts are the general theme as they build tension through progressive riffs and a pounding beat. The extended songs put you in a trance, it's a marathon, not a sprint. They flow patiently at first with interesting, deep grooves and understated vocals until a change of pace, octave and mood activate the hairs on the back of your neck. 'Left Myself Behind' breaks down into instrument abuse at the climax of an exhilarating set that surely won them more followers, amongst those who are here for the light-hearted headliners.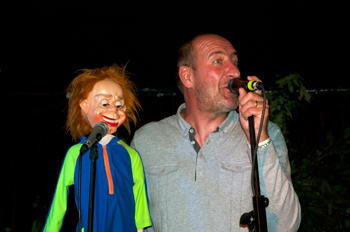 Marc Riley takes to the stage along with 'Pete', a rather freaky horrorfilm type hand puppet, who has a filthy mouth. Not only can Marc talk with his mouth closed, he can do it in a Cumbrian/Geordie accent, sounding much like British Sea Power's lead singer, Scott. After plenty of banter, the raffle provides some lucky punters with, amongst other desirable prizes, a mug that has a GB flag on it and "2012 Olympics" written on in pen… a stuffed rhino head on a plaque… and a bass players starter kit, which contains a bass body, one string, a packet of Coco Pops and a bag of Peter Hooks' favourite crisps.
Various "bits of skirt" collect their winnings and are heckled off the stage by Marc and Pete, who leave us with memorable catchphrases such as "cheer up Pete, it might never happen" and "one in the bum, no harm done".
As when I saw British Sea Power at Manchester Academy 3 nine years ago, the stage had been decorated with tree branches. Back then, they finished the gig by marching around the venue with a kick drum balanced on a territorial army helmet, inviting the crowd to hit it. A desire to do more than just play us their tunes has given birth to Krankenhaus. BSP have a dark and loud Joy Division and Pixies sound, blended with the euphoria of Arcade Fire, which has helped to create a passionate on loyal following.
New tunes are introduced in amongst hits from their 5 albums and numerous EP's. The 6 piece are taking it in turns to write – viola player Abi Fry debuts tonight, as does keys/cornet player Phil Sumner. You can imagine the band spending their time just enjoying each others company and feeding off each others creativity. Their enthusiasm is contagious.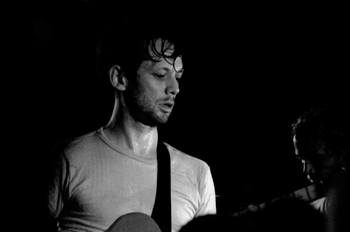 Making my way to the front with my camera proved a bad idea, it's not long before a frantic mosh pit causes me to retreat so to protect my equipment. No image stabiliser is advanced enough to cope with this crowd. They chant the names of the songs they want next… 'Carrion', 'Remember Me', and "easy, easy easy!" for 'No Lucifer'. A brave and frail looking girl repeatedly crowd surfs and thankfully manages to daintily land on her feet on each occasion.
The dark basement venue is full to capacity, creating a sweaty, fun-loving environment. Scott Wilkinson orchestrates the band and the crowd, building tension and inducing a riot. Guitarist Martin Noble throws much needed ice creams into the crowd as the set runs well past 11pm. The stage is pillaged for tree branches and setlists. All go home with something, even if it's just a battered choc ice, a losing lottery tickets and a huge grin.
Certainly the best atmosphere that I've seen at a gig for a long time… Mankenhaus must return.