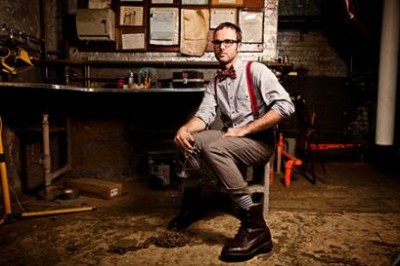 EVINSPACEY is the new album from Jason Drake, aka Cassettes Won't Listen, due for release through Daylight Curfew on August 15th. Initially titled KEVINSPACEY, the award winning actor of the record's namesake was not amused, serving Drake with a cease and desist order leading to the album's re-titling. Same great taste, different name.
Jason Drake is not a stranger to cease and desists. Back in 2008 CWL was served with a cease and desist from none other than the RIAA for his Guns N Roses / Ludacris mashup titled Ludacris Democracy. The release matched up the yet-to-be-released Chinese Democracy with Ludacris acapellas. Needless to say, GNR nor RIAA liked the idea. The mashup was removed from the internet, left exclusively to the savviest of internet searchers.
Legal issues aside, Drake has made a name for himself as a Los Angeles-based, multi-instrumentalist and producer. A partner and previous director of marketing for famed indie hip-hop record label, Definitive Jux, Jason relocated from Brooklyn to Los Angeles in 2009 to record his latest solo record, EVINSPACEY. A follow up to his 2008 release, Small-Time Machine, CWL's newest project is a synth/sample-driven record showcasing Jason's contemplative and melodic vocals while experimenting with dark and otherworldly themes of travel, distance and despondency.
Cassettes Won't Listen was initially just a bedroom affair; in 2004, he picked up the microphone for the first time after years of producing instrumental hip hop and electronic inspired beats. The result was "Cutting Balloons". He soon saw the mp3 appearing on influential blogs including Gorilla vs. Bear and Scissorkick. As this fan base grew, Jason served up the digital-only EP Nobody's Moving in October of 2005. "Cutting Balloons" reached #1 on WOXY's Top 20 charts after just weeks of being added to rotation.
In the wake of the release of Nobody's Moving, a wide range of artists, commissioned countless Cassettes Won't Listen remixes, including El-P (featuring Trent Reznor), Midlake, Asobi Seksu, Dr. Octagon, Pela, Dirty on Purpose, Mr. Lif, and Morcheeba, amongst others.
Cassettes Won't Listen followed up Nobody's Moving with 2008's Small-Time Machine and 2009's instrumental album, Into the Hillside. Both have received much critic fanfare, including radio tastemakers WOXY, KEXP, KCRW and favorable featured press from SPIN, Stereogum, Wired, Billboard, Playboy, NY Press, MTV, and many others.
Cassettes Won't Listen is offering a free mixtape, 101, featuring his recent remixes of Gold Panda, The Death Set feat. Diplo, and Houses along with previous singles and upcoming material from his forthcoming record, EVINSPACEY.