Silent Radio's Simon Zaccagni recommends Adrian Flanagan for your audible delectation and your possible bemusement on how a Salford born/Sheffield based man who only a few years ago broke both of his arms so badly that he was told he'd never play an instrument again can be so darn busy musically.
*****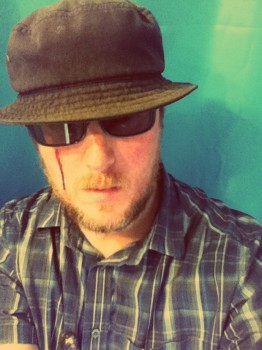 WHO ARE YA?
"I am one half of The Eccentronic Research Council, my other musical half is Dean Honer from I Monster, we are a non pop, sonic mass of practical Electronics and analogue synthesis, I'm also the writer of Fakeloric sound poems of which I have got my pal Maxine Peake to read on our debut LP '1612 Underture' which I wrote in memory of the Pendle Witches..This year is the 400th anniversary of their hanging.I had to write something about it as it's so tattooed in to Lancashire folklore. It's also my Love Letter to Lancashire…I'm very proud of it."
"I like to wear hats and sunglasses indoors with the hope it will desensitise people to Bono and so I can send stunt doubles to do shows for me if I'm poorly or in hospital. I'm a human pop art franchise eternally waiting to happen.."
"I was banished from the magic circle for giving away the secret to the 'removing one's thumb from one's hand trick & the coin from the ear trick'."
"I like to paint my nails, eat blue cheese, get piggy backs off ladies and am physically held together by lots of screws/bolts/pins and plates after ..
1:my face, ribs, innards all hit a dashboard/windscreen in an M1 car crash on May 31st  2004
2:not being very good on pushbikes in July 2008
3:I'm due another accident if it's a four year cycle/so I'm NOT LEAVING THE HOUSE..*airplane lands on house."
"My Mother calls me Adrian Flanagan and says I'm nothing special."
"I am also one half(The Crippled Claw) and songwriter for new Sheffield eccentronic girl group 'The Chanteuse & The Crippled Claw' who are quite a filmic electronic modern take on 60's popular music with multi female singers/front women….It started out as a one off single with my mate Candie Payne(I wrote for her before a song called Big Umbrella that got released by Domino records and went in the top 20 independent charts) but Candie was also in a band with her boyfriend so it wasn't viable for the two new projects to try and establish themselves at the same time..So over the past year I've developed The Chanteuse & The Crippled Claw in to a full live group with two lead singers, everyone plays synths, trumpets, glockenspiels..it's dead good, they seem to be wowing people where ever they go.."
"Also as one lone person since 2004 I've released into people's bedrooms around twelve singles under the alias 'Kings Have Long Arms' which have featured guest vocalists such as Philip Oakey from the Human League, Candie Payne from Liverpool and Ray Dorset from Mungo Jerry via other collaborative meetings with the odd member from The Smiths, A Certain Ratio, Ladytron, Add N to X, All Seeing I, Fat Truckers.."
Autobahn 666 – The Eccentronic Research Council Ft Maxine Peake
HOW DID MAXINE PEAKE END UP ON THE ALBUM?
"I met Maxine on a website for people with a penchant for dressing up as rabbits (laughs). I Sent her a message to ask if she'd meet me on a moor in Kersal, Higher Broughton, dress up as a rabbit for me, have an arm wrestle and a water pistol fight and let me film it for a song I had written. How could any lady refuse that? (laughs). Anyway, we kept in touch and occasionally met up for the sheer hell of doing something as daft as our first meeting or to creatively do something out of our comfort zones, which is how this album came about after Max & I went on a little road trip to Pendle ."
WHERE ARE YOU FROM?
"I was born and raised in Higher Broughton, Salford then moved to Sheffield in my twenties to escape the sound of Manc bands sucking themselves off and for some fresh air as one can't live off Emmerdale alone.(laughs).

HOW LONG HAVE YOU BEEN DOING WHAT YOU'VE BEEN DOING?
"Longer than Doctor Who. I'm endlessly regenerating, I'm about one thousand and twenty two years old, in dog years."
HOW WOULD YOU EXPLAIN YOUR WORK TO SOMEONE'S 90 YEAR OLD GRANDMOTHER?
"I'd slap 'em in the face with a whole salmon, then cuddle them, then I'd ingest all their medication at once, strip off and do a funny dance whilst shouting through a sixty thousand watt P.A.. "it's a bit like this Gran"…(laughs).
ARE YOU ONE – The Chanteuse & The Crippled Claw
IS THERE AN OBVIOUS INFLUENCE TO YOUR MUSIC?
"Not really, I don't really carry the 'influence baggage of yoof',I like classic pop music/songwriting from the 60's & 70's,rock and roll, blues, rockabilly from the 50's,Glam Rock, musicals, film soundtracks, psychedelic garage groups, early and contemporary electronic music, kraut rock, avant-garde, spoken word, prog rock, ska, dub,ye ye, Turkish & Greek rock from the 70's,euro bloody vision…I'm a microcosm of everything and nothing I've ever heard, add to that an actual lifetime of experience, a frighteningly bizarre imagination, a soupcon of literature and art and a lot of Coronation Street and we'll start getting close to the ballpark of my influences (laughs) ."
WHAT OTHER BANDS DO YOU RATE?
"I only really buy record's released on the Finderskeepers record label (they re-issue rare and amazing lost musical relics from all over the globe)…The only contemporary pop voice I rate that's about currently is Ren Harvieu…If there was one person I could get to sing one of my songs right now..I'd say her. She's smashing, a voice you can believe in and she's from my old manor..Yeah more power to the Ren."
BEST PLACE FOR PEOPLE TO FIND WHAT YOU DO?
The Eccentronic Research Council: Facebook / Twitter / Tumblr
The Chanteuse & The Crippled Claw: Facebook / Twitter / Tumblr
Kings Have Long Arms: Myspace
ANYTHING TO DECLARE?
"I have more good ideas than the average male and can polish off a packet of custard creams in one sitting."
THE ECCENTRONIC RESEARCH COUNCIL LP – '1612 Underture' comes out on August 20th 2012. on Bird Records.
LP launch party with Maxine Peake – 2022 NQ, Manchester 19/08/2012
Big Umbrella – Kings Have Long Arms ft Candie Payne