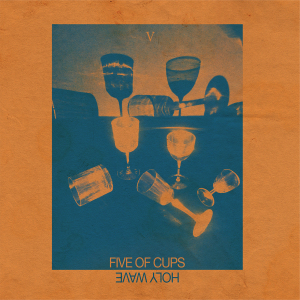 At a Tarot reading during the pandemic, Ryan Fuson of Holy Wave was struck by the Five of Cups card which signifies loss and grief. A cloaked figure with a bowed head looming over three spilled chalices while ignoring the two full vessels, it is seen as symbolising dwelling in a negative past rather than enjoying the positive aspects of the present. He was fearful that the music industry was finished and about on-line aggression being at an all-time high. Fortunately, rather than being overwhelmed by negativity, the band immersed themselves in producing their sixth album, filling its nine tracks with psychedelic intrigue and beauty while eschewing any lengthy jams.
As someone who is equally sceptical of meanings attached to the Tarot and astrology, I approached 'Five of Cups' with caution but that quickly dissolved from its opening with the title track which sees them "Down and out in Monaco…Crushed like a bug in the ground". Its spaced-out groove contains a deceptively easy but giddily exhilarating sonic mastery reminiscent of Deerhunter.
'Bog Song' is not a celebration of visiting the toilet (perhaps that is only northern English slang), although the subject matter is even more queasy, recounting a trip to Idaho with his father who was guiding elk hunters. It is a song of conflicted emotions, awe at the landscape but unease at the reasons for being in the mountains. However, it manages to sound unfazed with its even pacing, gently harmonic vocals and a guitar line that could be Johnny Marr at his most contemplative.
'Chaparral' augments its blissed-out guitars with a keyboard section that would have fitted ideally onto a Broadcast track while 'Path of Least Resistance' captures torpor, a reluctance to awaken and happiness to dwell in dreams. Its layering of sound creates a chilled-out ambience.
'Nothing is Real' sees them drinking Napenthe, a fictional medicine dating from ancient Greek literature and drug for banishing grief from the mind. With its closing line about walking into trees, it personifies an intensified but wonky calm. The weaving and tripping guitar line of 'Hypervigilance' is mirrored by a mutant keyboard melody as they celebrate a chaotic brilliance while proving that far from being all hippy dippy, they have an earthy nature by acknowledging "a secret power it's that I can see through your shit".
Lorena Quintanilla and Alberto Gonzalez from the Baja California, Mexico psych duo Lorelle Meets the Obsolete add their impact to 'The Darkest Timeline' with its "We are so over' line repeated, Quintanilla's vocals growing from a distant murmur as guitar layers create a sparkling effect. 'Nothing in the Dark' is joyfully discombobulating as guitar lines jostle insistently to the front of the brain while smoother melodic textures form a backdrop before ending with what sounds like fluff on the stylus.
'Five of Cups' concludes with 'Happier' a song to author Kurt Vonnegut that takes quotes from him to explore ideas of happiness (a house, a wife, a good job and a pill to cheer you up when depressed), inevitably repeating "so it goes" (the refrain from his best-known novel, 'Slaughterhouse 5'). Estrella del Sol adds vocals in Spanish to beautifully decorate the outro and complete a gorgeous sonic journey.
Holy Wave: Five of Cups – Out 4th August 2023 (Suicide Squeeze Records)
Holy Wave – Bog Song – YouTube