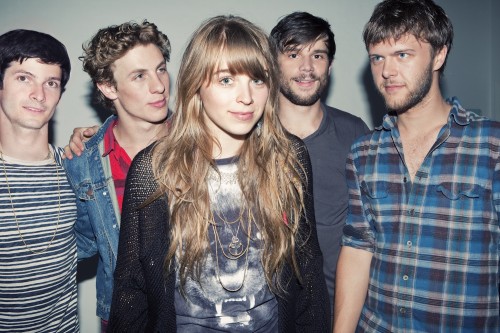 Following three packed debut shows in London earlier this month, sun-splashed Lafayette, Louisiana quintet Givers have announced details of their second run of UK shows and festivals in August.
Ahead of the tour, they will release their debut single 'Up Up Up' via Glassnote Records/ Island Records on 1st August.
'Up Up Up' received its world premiere on Radio 1 as Zane Lowe's Next Hypetrack and has gone on to be Fearne Cotton's Record Of The Week. 'Up Up Up' has also been added to Radio 1's In New Music We Trust playlist and BBC 6 Music's B List. Further radio support for 'Up Up Up' comes from Radio 2 and XFM.
The video for 'Up Up Up' was directed by Tim Nackashi (Death Cab for Cutie, TV On The Radio, Robyn & Rye Rye) and has already had over 35,000 hits, whilst the remix package for 'Up Up Up' includes reworks by Body Language and CSS.
Based in Lafayette, Louisiana, the quintet was formed by Taylor Guarisco (singer & guitarist) and Tiffany Lamson (singer, ukulele & percussionist), who met at the University of New Orleans. When Hurricane Katrina hit, it forced the two back to their home of Lafayette where they met Kirby Campbell (drums, programming & vocals), Nick Stephan (keyboards & flute) and Josh LeBlanc (bass guitar) and began to form the basis for Givers.
Aug Dates:
Aug 5th – The Academy – Dublin
Aug 6th – Field Day – London
Aug 7th – Sudoeste– Portugal
Aug 9th – Hoxton Bar and Grill – London
Aug 10th – Night and Day – Manchester
Aug 11th – Start the Bus – Bristol
Aug 12th – Summer Sundae Weekend – Leicester
Aug 13th – Oya festival – Oslo