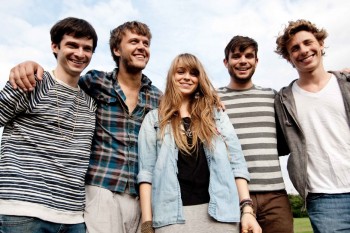 Givers released their debut album 'In Light' last Monday, via Glassnote/Island Records and to mark the release they've made available a remix of their current single 'Meantime', by Deerhoof's Greg Saunier. Bombay Bicycle Club have also remixed the tune, which follows their debut single 'Up Up Up'.
Givers was formed by Taylor Guarisco (singer & guitarist) and Tiffany Lamson (singer, ukulele & percussionist), who met at the University of New Orleans. When Hurricane Katrina hit, it forced the two back to their home of Lafayette where they met Kirby Campbell (drums, programming & vocals), Nick Stephan (keyboards & flute) and Josh LeBlanc (bass guitar) and began to form the basis for Givers. For the next year, the band went to work melding Guarisco's passion for the sounds of New Orleans ignited by his time spent in Cajun and Zydeco bands and Lamson's love of rock, pop and improvised jams into finely-honed songs for a debut EP.
The UK release of 'In Light' mixed by Ben Allen (Animal Collective, Yeasayer) follows sold-out US tours with Dirty Projectors, appearances on Late Night with Jimmy Fallon and big-ups from Huw Stephen's at SXSW. 'In Light' runs the gamut of all the bands influences but all the while sounding decidedly Givers.