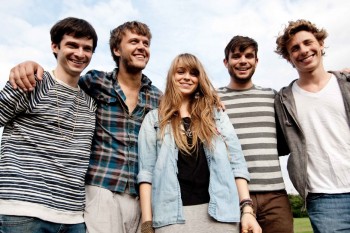 'In Light' is the name for the debut album from Louisiana's Givers.
'In Light' will be released on the 10th October on Glassnote (Mumford & Sons, Phoenix, Kele, Two Door Cinema Club, The Temper Trap) and Island Records. Givers are a band that attepmt to fill your ears, hips and heart with uplift and sunshine.
The first single taken from 'In Light' was last month's stunning 'Up Up Up'. On launch, the band made each of the single's individual stems available on their Soundcloud page and encouraged fans to download and remix away. The reaction from their fans was large and word soon spread to a handful of breaking UK artists intrigued by the Louisiana quintet.
Duologue – a London electronica five-piece, who released their debut self-titled EP in May to much support (Abeano: "Patching together gritty blues rock and skewed glitches, Duologue's sound billows like a gust of desert dust and city dirt.") – are the first UK band to unveil their own remix of 'Up Up Up' and it's available as a free download/ embeddable stream right here:
Other artists already confirmed to remix 'Up Up Up' include Bombay Bicycle Club, Chris Steele-Nicholson of Semi-Finalists/Oh Minnows and more.
Givers next single will be 'Meantime', which is released on the 3rd October.