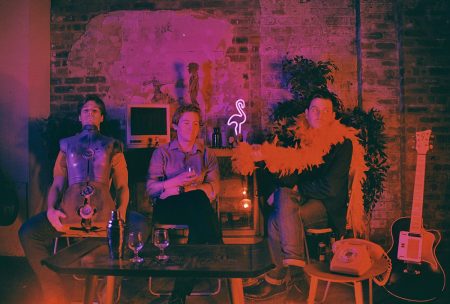 Eyesore & The Jinx's debut EP 'The Exile Parlour EP' is out now. It features singles 'Leisure Time' and 'Nightlife', along with new tracks 'Dinner, in the Exile Parlour' and 'The Ballad of Big Joe'. The EP has been recorded in Birkenhead, mixed in Dublin and mastered in Chicago. Bassist and singer of the trio Josh Miller says about the EP:
"The EP consists of four songs, each from the perspective of four equally uninhibited characters whose various disclosures unfold in front of the ever shifting backdrop of 'The Exile Parlour'. A fictional space, where the private seeps seamlessly into the public, and pleasures are pursued unflinchingly."
Eyesore & The Jinx are part of a group of artists that make up Merseyside label Eggy Records. The label acts as a co-operative, a supportive group of creatives and misfits.
 Eyesore & The Jinx Twitter | Facebook | Instagram