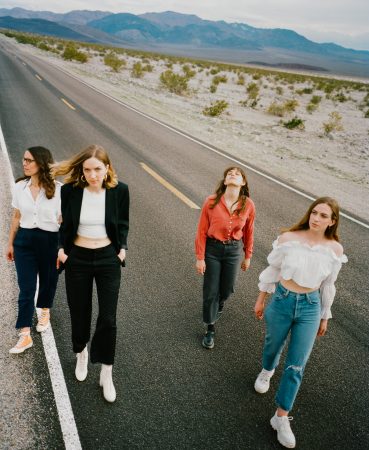 The Big Moon have released a new video for 'Why', a song taken from their latest album 'Walking Like We Do' released back in January. The tour arranged for that album has been rescheduled to March next year, where they will hopefully be playing live in eight UK cities.
The band had to this to say about their new video:
"We managed to make a video in lockdown even though we haven't been together for four months! Hope our fantasy seaside trip takes you somewhere else for a few mins and gives you that break so you can keep doing what you need to do. We certainly enjoyed covering ourselves with green paint. We miss and love you very much. Big thanks to the wizardry of Jonjo Lowe and his team."
The band have also released a series of podcast episodes discussing the origins and creation of each album track. Jules and Celia have also been offering one-on-one music lessons to fans through lockdown via Zoom, with proceeds going to Girls Rock London.
Rescheduled Tour Dates
March 1st – Glasgow, The Garage
March 2nd – Newcastle, Riverside
March 3rd – Manchester, Academy 2
March 5th – Sheffield, The Leadmill
March 6th – Birmingham, O2 Academy 2
March 7th – Cardiff, The Tramshed
March 8th – Brighton, Concorde 2
March 10th – London, The O2 Forum
 The Big Moon Official | Twitter | Facebook | Instagram