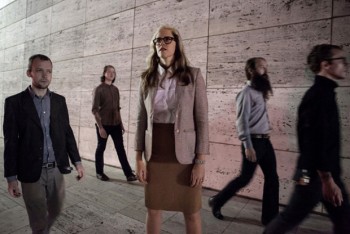 'Who Needs Who', the new album by Dark Dark Dark, is a stirring and rich body of songs that sees the band breaking new ground, and settling into the strengths of a quintet that has worked incredibly hard, both on the road and in their personal lives. The band's commitment to their music has proven to be a double-edged sword.
The first single, 'Tell Me', finds Dark Dark Dark setting a new tone for avant-garde pop. The beat is up, the drums and bass propel the song, and Nona Marie Invie's voice soars between impassioned yearning and a resigned, empowered hope that reveals wisdom. A download of the single is available to folk who pre-oder the album now from http://www.melodic.co.uk/whoneedswho/.
Most of the material on Who Needs Who was written by Invie in Minneapolis, and arranged by the band on tour and in New Orleans, where acclaimed engineer Tom Herbers joined them to record.
It's no minor detail that Nona and Marshall LaCount, Dark Dark Dark's co-founder and producer, were in a serious relationship that ended in early 2011, with a year solid of touring commitments ahead of them. On 'Meet In The Dark', Nona sings, "You want everything to stay the same, and then things change, but I'll never get tired of singing these songs, no I'll never get tired of singing these songs." Despite increased tensions and heated arguments, the band showed immense patience and commitment to the music and their friendships. Ultimately, a five month hiatus at the end of 2011 and early 2012 allowed the band to heal, reflect and refocus. When the band reconvened in New Orleans for rehearsals, the initial awkwardness gave way to the creation of some of their most beautiful, revealing work to date.
Since their last full length, 2010's Wild Go, the band has toured extensively in the US and Europe, enjoying sold out shows and support dates for bands like The National and Low. Their appearance on Channel 4's Live From Abbey Road in 2011 was a TV highlight and Dark Dark Dark will return to the UK in advance of the album release to appear at:
16/08/12 Vendôme (France)
18/08/12 Greenman Festival – Powys
20/08/12 Brudenell Social Club – Leeds
21/08/12 Captains Rest – Glasgow
22/08/12 Sneaky Petes – Edinburgh
26/08/12 The Fleece – Bristol
28/08/12 Brighton Ballroom – Brighton
31/08/12 Moseley Folk – Birmingham
01/09/12 End Of The Road – Dorset
02/09/12 Electric Picnic festival – Stradbally (Ireland)
06/12/12 The Forum – London (+ Kurt Vile + Lower Dens)
07/12/12 ATP festival – Minehead (Curated by The National)