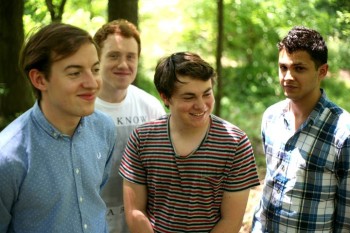 – ST. PHILIP'S CHURCH, SALFORD –
Bombay Bicycle Club embark on their latest tour, fresh off the successes of their first record 'I had the blues but shook them loose' released summer 2009.
The four piece guitar band from Crouch End have come a long way in the past four years. They shot to fame as winners of Channel 4's 'Road to V' competition which saw them open the festival in 2006.
At that point the boys were still only at school, but that didn't stop them from building a strong live reputation gigging up and down the country before releasing their debut EP 'The Boy I Used to be' Feb.2007.
So on hearing they were putting out a new album I was inclined to think it would be true to form , i.e.: pretty much the same whiney vocals, loop peddle overload that the lads have built their sound around…how wrong was I? This latest instalment sees the north London foursome ditch the electric outfit for a return to grass roots with the acoustic based new record 'Flaws'.
Even more intriguing is their choice of venues, mostly churches and halls up and down the country. I was here at St Philips Church Salford to listen to the Club's latest offering.
I'm not a religious man but on entering the church there was an overwhelming desire to hush, so aware of your own affect in this holy space. What a place to launch an acoustic album.
So as I take my pew (literally) and wait for the show to open, I become more aware of how strange it is to be at a gig surrounded by people talking in hushed voices, taking careful steps so not to disrupt the atmosphere that this building seems to spew.
I only hoped that the performance would match the aura of this wonderful building…and it did.
From start to finish it was all I wanted and more despite my initial expectations not being too high.
In the past, I've found Steadman's nasal warbling a little annoying to say the least but with this latest acoustic revamp they felt just right. At times evoking thoughts of Mary Jane, a little Nick Drake that's what I mean.
Songs such as 'Word by Word' and 'Leaving Blues' could have almost been lifted from some obscure bootleg Drake record, I approve.
The whole set has a sombre feel to it, which I love but maybe that's just because I'm a miserable northern twat. There were times when I found Suren's drumming a little out of place, 'Rinse me Down' was one such song but then again without it 'MyGod' would have been a bit lack lustre.
After saying all that, it wasn't all doom and gloom 'Ivy and Gold' got the little toes tapping in the stalls and I found myself with a stupid grin on my face as I whistled along.
The Crouch End quartet done good, a brilliant performance which showed maturity beyond there years.
Somewhat lacking in lyrical content but this could be overlooked by the bloody good string action.