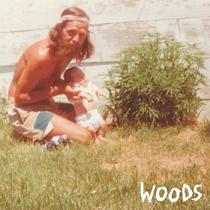 A companion piece to their new full length, Sun and Shade, 'Find Them Empty' was recorded in the winter of 2010 at Buttermilk Falls in Warwick, NY.  The A-side, 'Find Them Empty' is far less falsetto and way more Bob Trimble than any of their previous work and B-side, 'Be There' is a more jam-friendly number reminiscent of their legendary live shows. The cover of this single features a young Caleb Braaten (Sacred Bones), his father, and a gigantic marijuana plant.
Earlier this month, Woods released their 6th full-length album, Sun & Shade, on their own Woodsist record label. This Summer the band will embark on a North American tour co-headlining with The Fresh & Onlys. The tour will also include the band's first appearance at Pitchfork Festival as well as the two-day Woodsist Festival in Big Sur, CA which is already sold out. The band return to the UK in September for a performance at The End Of The Road Festival and dates with Kurt Vile.
Recorded Winter to Winter, 2010-2011, Sun & Shade features a helping hand from west coast brother, Glenn Donaldson (Skygreen Leopards, Art Museums) and is the first full album recorded at the new Woodsist Headquarters in the small upstate town of Warwick, NY.
"Woods is a two-headed dog asleep on the porch and a butterfly on the windowsill… a Janus, a Gemini and a screen door. The sun won't fade and the earworms will not leave, but the jams go on too long for the girl in the back who wonders if her friends are at another bar. Still, the ballads always make her cry. Woods is up there relaying the Woods-feel: Folk-rock, fuzz, tambourines, tapes and raw lunch pulled straight from the yard. Pop songs and other things: Sun and Shade."—Glenn Donaldson
September Dates:
04-Sep  – Dorset End Of The Road Festival
05-Sep – Manchester Sound Control with Kurt Vile
06-Sep – Glasgow Stereo with Kurt Vile
07-Sep – Bristol Fleece with Kurt Vile
08-Sep – London Scala with Kurt Vile