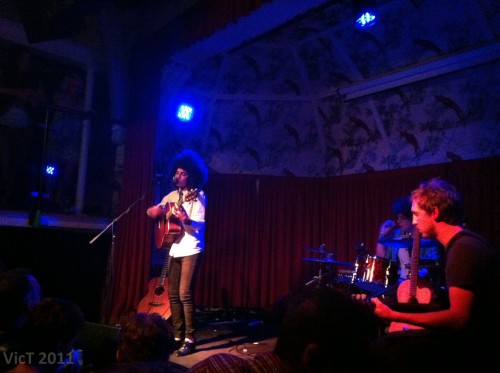 – THE DEAF INSTITUTE, MANCHESTER –
My mum said, "You can't call a venue that", I tried to explain to her that 'The Hard of Hearing Institute' might not have the same ring to it. Grade II listed, I will have you know as well. Nice to get a bit of history into these reviews, so it's a fully rounded learning experience too.
The Deaf Institute is one of the best looking venues in Manchester, it's cute, it's kitsch, it's got a little soul and it's like you've stepped back in time. Above all, it has managed to stay unpretentious, which is difficult when you throw a bit of whimsical trendiness in the mix, just head to the Northern Quarter and see for yourself. Saying that, it is still a fiver for a glass of wine.
The first of Karima Francis' support acts is one of Manchester's best folkers, the bloody superb  T.G Elias, complete with his well dressed band. Up next, is three fifths of Rook & The Ravens who play a stripped down acoustic set.
The last time I saw Karima play live, was back last year at the launch of the fantastic NOISELAB pop-up shop, where she shared the opening night party line-up with Mr Scruff, a billing I don't think you're likely to see again in the future. She then returned a few months later to give an intimate song writing master-class to a bunch of young, up and coming musicians. What a lovely lady, and that's the impression that she's emulating throughout the whole gig tonight.
As Karima takes to the stage the venue has filled up nicely, and she's accompanied by a Simon Robbs on guitar and a drummer. Karima is sporting massive hair, like huge, and there's quite a few copycat hair dos in the crowd too – I think I've seen the birth of a new trend, best get me a 'fro.
Blackpool-born Karima, is using tonight to test the water on a few tracks from her new album, the follow up to her critically acclaimed 2009 release The Author. The applause for her debut album came in waves, and saw her take to the revered stage on 'The Jools Holland Show', named as 'The Next Big Thing' by the Daily Mail and the Observer's 'Number 1 Act To Watch'. Not to add to the pressure, but that is a tough roll call to follow.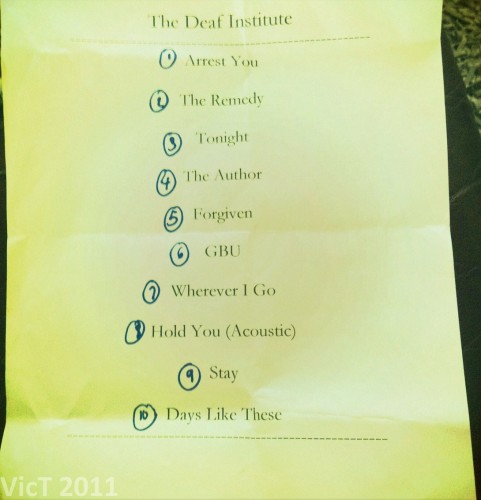 Karima dives right in with 'Arrest You' from her new album, powerfully belting out, "How can I forget you?". Next is the title track to the new album, The Remedy, as heart wrenching as the former track. Karima is really wearing her heart on her sleeve with these new songs. "Take away this pain forever", I am at the bar on the verge of tears – it could have been the £5 glass of wine though. The track is a huge favourite with the crowd, and Karima can't quite believe the reception she is getting; "I can not tell you how much it means for you to clap like that."
'Tonight' is another newbie, followed by 'The Author'; the track that brought Karima into the spotlight and many a one to watch list. In her words, "This song gave me a career in music for a bit." There is a stunning silence across the venue, as Karima sings "I want to tell you a story…", leading an unprompted sing-a-long from the crowd – beautiful.
Another new 'un, 'Forgiven' follows, and sees Simon on guitar flex his talents. Karima takes a seat to play a song about a 'sticky situation in love' with the gorgeous line, "It's a robbery knowing I stole the keys to your heart". At this point I am pretty sure Karima knows everyone in crowd, her mum is here, a woman she met at a hospital gig, an old uni friend… it's nice to hear some banter.
'Wherever I Go', is another new track, but by this point, some songs are beginning to sound like the last, until the tender 'Hold You'. She finishes the night on a new track 'Stay'.
Swiftly she returns to the stage for an  emotional encore performance of 'Days Like These'. She adds, "I wouldn't know what to do if I didn't have this gig tonight".  The gushing gets a bit needy, it's lovely and everything, only for the first 3 times though.
Here is a lady who received big attention very early on in her career and has obvious trepidation about how her new stuff is going to be received. Her lack of confidence and need for assurance is evident from tonight's gig. Stop worrying girl, it's all good. Karima's unique blend of brutally honest, yet beautiful, self-penned lyrics and distinctive style, makes her another homegrown talent for the North West to be damn proud of.
She is touring the country this September and October, so get a ticket and have your ears blessed in an evening of loveliness, and maybe shed a little tear. As some lasses behind me said, "Let's go see her in October". Yes, do. The next Manchester gig is October 14th at the Ruby Lounge.
For the full list of dates head to http://www.myspace.com//karimafrancis