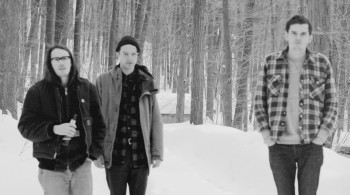 Mazes have never been ones for hanging around. When they have songs, they get them out there. If they should find themselves snowed in and unable to get to the studio, they'd grab a shovel and dig a pathway through. It's precisely what the trio had to do during a recent trip to upstate New York for the creation of Wooden Aquarium, the band's brand new album.
"The studio was completely isolated; an idyllic place to make a record. Green, remote, backwatery, fewer distractions… but things made a turn for the worst the night we arrived," remembers singer and guitarist Jack Cooper. "Our van was broken into and gear stolen within an hour of being in New York. Then around three feet of snow fell over night. We had to shovel our way to the studio every morning. It was interesting being snowed in – you get busy and knuckle down."
Completed in just two weeks between the sub-zero conditions of commuter town Cornwall, New York and the heart of Brooklyn, Wooden Aquarium marks the apex at which Mazes' music to date meets. Recorded completely live and laid down entirely onto beautifully thick two-inch tape, the trio also had company in enlisting the skills of Parquet Courts' producer Jonathan Schenke. "If it wasn't for Jonny, things would've got a little bleak," admits Cooper. "The dynamics of our band are very English, so can be quite tense and focused. I think that comes across in the music, but Jonny kept everything light and breezy."
Whether drawing upon the band's vast influences (the mysterious 'Explode Into Colour' nods to their appreciation for the same-named group whilst 'Vapour Trails' revisits Cooper's childhood memory of Victor Schertzinger and Johnny Mercer's 1940s song 'I Remember You') or introducing new friends (most of the album also feature vocals of a friend, Heather Strange, who they met in an NYC karaoke bar), each track on the album is like a vivid flashback to a particular moment in time.
"This album and going to America to record it represents a roll of the dice. Its primary influence is how the three of us play. We're not trying to do anything unnatural, just to be ourselves. It's the culmination of what we were trying to do with Ores & Minerals… the actual 'sound' of us is evolving and getting more idiosyncratic."
TRACKLISTING:
1. Astigmatism
2. Salford
3. It Is What It Is
4. Explode Into Colo(u)rs
5. Vapour Trails
6. RIPP
7. Letters Between U&V
8. Mineral Springs
9. Stamford Hill
10. Universal Me
11. The Third Ridge
TOUR DATES:
AUGUST
25th: Brighton, Old Market w/ Stephen Malkmus
27th: Newcastle, Riverside w/ Stephen Malkmus
28th: Nottingham, Rescue Rooms w/ Stephen Malkmus
29th: Larmer Tree Gdn, End of the Road Festival
SEPTEMBER
12th: Shacklewell Arms (release party + guests)
13th: Wakefield, Long Division fest
20th: Southsea, Southsea fest
21st: Brighton, Bleach
23rd: York, The Basement
24th: Birmingham, Bull's Head
25th: Liverpool, Psych fest
'Wooden Aquarium' will be released 8th September 2014 via FatCat