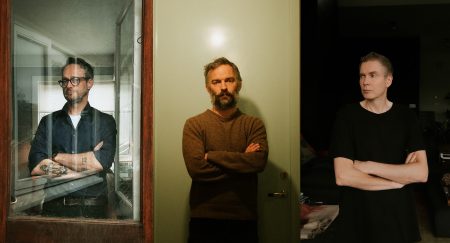 To coincide with their appearance at the Meltdown Festival and without any advance fanfare, Sigur Rós have unexpectedly released their first studio album since 2013, 'ÁTTA'.
Multi-instrumentalist Kjartan Sveinsson has returned to the fold, joining frontman Jonsi and bassist Georg Holm. With three people in the room, they found themselves "just wanting to have minimal drums and for the music to be really sparse, floaty and beautiful" according to Jonsi.
'ÁTTA' was recorded across continents:  in the band's Sundlaugin studio in Iceland; Abbey Road in the UK; and a number of studios in the US. While more introverted than their previous records, the presence of the London Contemporary Orchestra conducted by Robert Ames, alongside brass performed by longtime Icelandic collaborators Brassgat í bala, gives the album's ten tracks an expansive and majestic widescreen sweep.
The album is accompanied by a single, 'Blóðberg', with a video by Johan Renck, director of the HBO mini-series, Chernobyl, together with videos by Madonna, Robyn and Beyonce. 'ÁTTA' is available now digitally and will be released on physical formats on 1 st September 2023.
Sigur Rós will also be appearing at Wasing Estate, Reading on 2nd July 2023 before heading to North America in August for further dates.