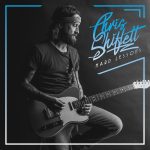 Chris Shiflett, who's best known as Foo Fighters' lead guitarist and co-founder of No Use For A Name, is releasing his first solo album 'Hard Lessons' this week. And he quickly reaffirms his position as a talent, and an authentic country guy.
The album drops on June 21st on Each Beach Records & Tapes/Thirty Tigers, and has been produced by none other than Grammy-award winning Dave Cobb – the guy behind work for country artists such as Sturgill Simpson, Chris Stapleton and Jamey Johnson to name a few.
So Shiflett is in good company for his first official dalliance.
He tells us that him and Cobb decided to make this album last year, in between Foo Fighters' shows, and that right from conception they wanted to create a specific sound. So far, so authentic. They used an old Marshall JCM-800 to get that sound, and it shows.
The result is a set of ten tracks with a raw, honest truth you only see from professionals doing something that they love. It's a far cry from the Foo's and its authenticity just WORKS. If you're into some serious guitar skills, rock with a modern country twist (complete with southern drawl) give it a try.
For my part, this is ten tracks of real songs for real people. It's a true delight.
Liars word's repetitive chorus is stuck in my head for hours after I've finished listening, and I'm not sad about it.
'This Ol' World's nihilistic worldview presents a truth that isn't far from today's modern world, with a collection of immense guitar solos to boot (would you expect anything less though!).
We power through to 'Welcome To Your First Heartache'. It's slightly lighter with tight percussion that brings a bit of anger to what I presume was written as a comforting word for a young adolescent who's just been dumped.
Then we're into real country. 'The One You Go Home To', a duo with Elizabeth Cook, is perhaps the most country track. It's a fun, argumentative back and forth between two extramarital lovers who's only interest in each other is between the sheets. I aint no country fan but my Amazon shopping list *may* now show a search for a cowboy hat… don't judge me.
He ties up the second half of the album with more personal tales and more beautiful guitar solos.
I'd hate to be the woman he wrote 'I Thought You'd Never Leave' about – it's a brutal account of a blase breakup that makes my toes curl. But he really lets loose with the track on this, and there's a second guitar line that bleeds through the main melody with expert precision. It's joyful musicianship.
He finishes off with a few power houses of noise, and fast melodies and I'm left searching for upcoming tour dates. I now count myself as a country music fan, truth be told. Give it a listen on the 21st if you want to join me on the dark side.
Now, where's that Amazon delivery guy got to…