With over 40,000 tickets sold, Parklife's fourth year is off to a big headed start. Headlining acts such as Plan B, Example, Disclosure, TNGHT and Johnny Marr have certainly helped ticket sales sore to new heights, bringing an official start to the British summer in style..but can the festival live up to its high expectations with a new venue and an even bigger crowd? Massive tents will soak in hoards of young and impressionable festival goers during the remaining days of a week- long Manchester heat wave so let's see how it all pans out…
Day one kicks off in an hour-long queue on Miller street to collect prepaid tickets for the Parklife coach. Wrapping itself around the buildings on the edge of the Northern Quarter, hundreds of Coachella inspired festival enthusiasts are pre-drinking on the pavement, eagerly waiting to grab their pink wristbands and get this show on the road. I ask a few Parklifers who they are giddy about watching since there seems to be so many different acts on over the weekend: "I'm excited to watch The Maccabees because I've been listening to them a lot lately. Plan B too – he's a good rapper mixing jazz and R&B and a good singer surprisingly" says Michael Johnson with a cheeky grin on his face. And who is festival newcomer Bob Diggle looking forward to? "I'm excited to see Disclosure later tonight and also Danny Brown tomorrow. I've never been to Parklife but I've been to Warehouse Project where there's always a really good vibe with some good acts on. It's the sort of thing where even if you haven't heard of any of the acts you can still have a really good time."
Arrival to Heaton Park involves yet another massive queue, which for me turns out to be the wrong area for press, making me walk half way around the lake in the blistering heat. After losing my mates for a solid two hours in an absolute dead zone for network signal, I trudge around the park to get into that "festival mood". Kicked up dust, wellies, sun burns, dead cider bottles and ultra skanky show-your-ass-cheeks shorts are all I can see so far, and I can tell in the distance that the tents are already jam packed with crowds. Somewhere Baauer is without a doubt performing his trademark 'Harlem Shake' while The Temper Trap grab a half-baked crowd at the Main Stage with their one hit wonder 'Sweet Disposition.' Third year in a row Parklifer Alexandra Wrigley tells me what she loves most about this festival so far: "Everyone is here for the same reasons. They just want to have a really good time and party. It's a really good hedonistic type of atmosphere." "It's great, people are coming together for more than one genre" Michael Pattison chimes in.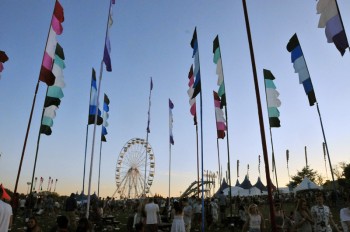 All in all, Saturday afternoon has been a haze and plus, there ought to be a Lost and Found box for missing friends.  It's too hot to walk around and the line ups for everything have been absolutely aggravating. The festival only begins to pick up during Four Tet, followed by headline act Disclosure in which the reception from fans is top. "I can't get over it," says Michael Pattison, "It brought the whole tent together and everyone was dancing, hugging and just going mad." I wondered how the album compared to the live set and if he pulled it off, "It matched the album well but it was just more loud and raw and almost better than record."
For those who stayed up all night at Parklife's after parties which were scattered around various venues in Manchester, Sunday begins on a sluggish note. Thousands of hangovers and rosy shoulders have labeled round 2 as the almighty 'chill-out day'. Arrival at the festival just after 4pm sees us waltz into Benga in The Ape Tent where one fan isn't impressed with an act. "I had pretty high expectations" says Trevor Biermann, a fan who has travelled from Wigan for the weekend's festival. "I thought it was going to be  live. It was a basic DJ set and he played Daniel Bedingfield which just killed it. It just didn't fit in at all for me personally." And what could he have done different, I wondered?  "I think he could have started off with a few of his own tracks to get everyone going and then go into a few better ones…"
Despite a disappointing start to the day for some, Sunday's highlight includes a blow out set from guitarist Johnny Marr in an effort that surprises even the oldest of Smiths fans. New tracks such as 'The Messenger' and 'New Town Velocity' give off that old school Marr flavour, twisting out that vintage zest with a handful of classic Smiths tunes. Fans of all ages sing along to 'There Is A Light That Never Goes Out', the lyrics of "If a double decker bus crashes into us" dripping off their tongues in awe of this Manc in the flesh. It all comes to the most perfectly placed close as Marr dedicates 'How Soon Is Now' to his hometown, erupting the crowd into one big 'lighters up' breath of fresh air sing-a-long. It is all too much to handle, thinking I'd never get to experience one of my favourite Smiths tunes live, by any member of the band. "That was absolutely fantastic" one Marr fan shouts after the gig. "I haven't seen a crowd get that excited all weekend."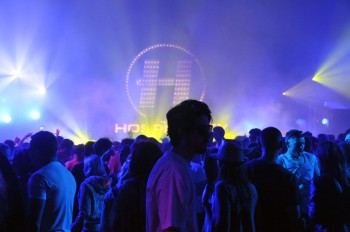 Trecking towards trap heroes TNGHT's set, the tent swells up faster than beer refills as the audience is ready to end the weekend on a high note (cough, no pun intended). Mad tracks like 'Bugg'n' and the quirky snatches of 'Goooo' kick off the end of a fab weekend, with the dropping bass in Hudson Mohawke's solo effort 'Chimes' making everyone aware who owns the night.
Sunday being arguably the better of the two days, I leave Parklife in good spirits, and glad that I took a chance on a festival I knew nothing about and music I had never heard.
Considering the festival has grown in size since years previous, I'm disappointed that I couldn't see everything. It's just not possible though – you're being torn in different directions by your friends who have such different tastes in music. You can't see everyone. Jess Thompson had something to say about the festival's big change from Platt Fields to the massive Heaton Park. "I think the whole fun of it last year was that you could walk to everything easily because it was a lot smaller and there weren't as many people – it's definitely over sold this year and I don't think that I'd come back again". Was it really that bad, I ask? "I've had fun with my friends and stuff but I just think for me it's time for a new festival."
Manchester had it good this weekend. A beautiful two days full of music, friends, alcohol and memories. Would I go back? Sure. But next time, I'll be a little more prepared. For those of you intrigued to check out Parklife 2014, here's some advice from some of our readers:

"Pre-book your coach tickets! Saves you at least a fiver and the stress of wondering if you'll get a ticket. Also, pre-book a taxi home. It was hell trying to get home after midnight" – Brit Jean
"Set off early so you don't have to queue up for the bus, and don't go to the main bar – go to the bars in the tents because they're less crowded" – Bob Diggle
"Less people, more staff and don't have Example playing" – Michael Pattison
"Bring baby wipes, an extra pair of socks incase it rains and also…. you can fit half a litre of any alcohol into a full size pack of Capri Sun" – Alexandra Wrigley
There you have it folks. You heard it here first.
Featured photograph by Brit Jean, article photography by David McFarlane. For more photos from Parklife 2013 check out http://dmcfphotography.com/sets/30/