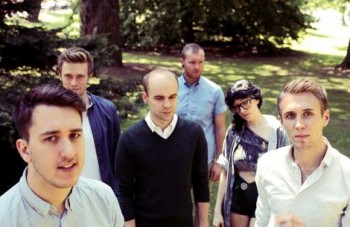 – NIGHT & DAY CAFE, MANCHESTER – 
"This is the first time I've played the Night & Day while it's still been day," jokes Glass Ankle frontman, Greg Jackson, in what turns out to be the highlight of the duo's set.
Greg's clipped vocals aren't a million miles away from Paul Heaton's, but as each song competes with the last in a quest to be the most anodyne of the evening, this plus point is rendered almost null and void. In their defence, they are a member down, with holidaying percussionist Chika being temporarily replaced by a few unobtrusive whooshes of a synth, but even the otherwise inanimate giant moose head above the sound desk lets out a distracted huff long before the end.
Bundled up in a sweatshirt at least three sizes too big for him, Scriber (aka, Cardiff-based songsmith, Joshua Price) has the appearance of a girl lounging around the house in her boyfriend's favourite top. He positions himself at 90º to the hardy few in the audience, accompanied by a guitar, laptop and a quartet of red bike lights propped up by the monitors; a lovely, simple touch which adds more ambience than a few LEDs have any earthly right to.
His weary croak on 'Bethlehem' sets the tone for a stark, honest performance which lies somewhere between Dan Michaelson and Sam Amidon, and carries right the way through to closer, 'Thunder', complete with it's suitably stormy sound effects.
Also from the Welsh capital, Among Brothers have the rare luxury of plenty of room for their seven-strong horde in the Night & Day's spacious environs, including Lewis Griffith's whopper of a tenor trombone, although he sensibly tucks himself out of harm's way to the left.
A barrage of ideas marry with the relentless energy of frontman, Alex Comana to produce vivid offspring like 'I Do Not Believe', new single 'Jollica', and 'Keep', which inescapably brings to mind Anathallo at their hand-clapping, foot-stomping, thigh-slapping best.
Their seemingly limitless invention and sheer quality of the material deserves a much bigger crowd, international adulation even – 'Sam, Isaiah And The Wolf' sends a greater shudder down your spine than being forced to watch someone repeatedly munch on a woolly jumper –  yet as things stand, the promoter paid them while they were still on stage in Glasgow last night. Regardless of the numbers, Among Brothers are a triumph.