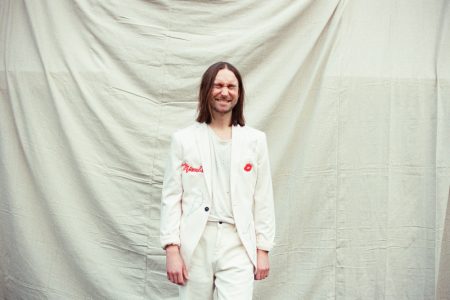 Francis Lung creates a timeless blend of psychedelic pop, which recalls the epic song writing of Elliott Smith, Harry Nilsson and Brian Wilson infused with a playful experimental edge, his new album 'Miracle' is bursting with melodies which take your ears to unexpected places. Formerly the bassist in WuLyf, Francis Lung is the moniker of  Tom McClung, who we first met eighteen months ago over coffees in Common in Manchester's northern quarter around the time of his stunning debut album 'A Dream Is U'. This time around he's managed to infuse the shimmering psych-pop with a huge sounding, classic song writing sheen, which never loses its fragile and emotional punch. We caught up with him over the phone to discuss his recent Elliot Smith charity album, his own latest musical offering, and how much the world has changed since we last met…
You have the remarkable new album coming out which we're going to talk about as well as the Elliot Smith covers album, 'Everybody Cares'. So firstly, how did you get involved with the Elliott Smith project?
"Well, a while ago, there was a string of new laws being unveiled in the UK and US regarding trans rights and LGBTQ+ rights. There were news stories saying they were going to protect the gender recognition act and stop plans to make it less complicated to change your gender, so basically it meant that you had to have a medical diagnosis in order to change your birth certificate. I was really outraged by it, and thought it was horrible that all of these people in Government who had no idea, or no frame of reference for these people's lives were deciding what they can and can't do. It made me think about the rights of LGBTQ+ people and how they are still some of the most maligned and vulnerable people in our communities, so I just wanted to do something to raise money for these charities that were doing things to help.
I'd been listening a lot to a podcast called 'My Favourite Elliot Smith Song' and my friend Ben Gregory from the band Blaenavon had been on the podcast talking about his favourite songs, so I had a mutual friend there. I originally got in touch with Rob who runs the podcast, to say can you help me put together a line up for a tribute concert online. The livestream was brilliant, it raised £1,500. Ben said you should do a compilation as well, so it took quite a while to compile and for the artists to do their covers, and then the album 'Everybody Cares' came out in February 2021. It's only on bandcamp, so if you want it, you have to buy it, which I kind of like too!"
Last time we chatted, was eighteen months ago around the time of your debut album 'A Dream Is U' and we discussed Elliott Smith a lot as he's a big inspiration for both of us. On the new album the way you use melodies that are catchy but not that obvious, conjures up the song writing style that Elliott also used. Is that how you like to approach your songs, keeping it melodic but then taking it somewhere unexpected ?
"Absolutely, a lot of the time, if I'm making something I haven't really heard before I'm not that interested in it. Sometimes when I'm writing, I'll make something up, and then say 'right, how can I change this, what do I expect to happen, and then how do I undercut my expectation'. Maybe that's how I reach some of the chord progressions you don't usually find and maybe it comes from when you expect to hear a minor chord, you make it major, or things like that. I'm really interested in the element of surprise in song writing. The best songs are the ones I think where you either have exactly what you want at exactly the right time, or you have that thing taken away from you when you expect it the most. It's just playing with that dynamic which is one of the games of song writing I think. Elliott Smith did that beautifully, and he's very inspiring and of course that comes from The Beatles, who in turn take it from not just rock n' roll but Tin Pan Alley and surreal literature. It's a pool of influences that probably began way back when. It's sort of like pop surrealism, I like to think."
That's a great way to describe it as although the melodies are really bright and tuneful and go to different places, lyrically there's a lot of lines in there which seem to be quite personal and on this new album particularly, lyrics which seem to reflect some sort of struggle
"I think I've always written personally but maybe I was more able to express myself on this one. Maybe it's just more direct. I always try and write about things that are about me, cos if I can't really believe what I'm singing about then I can't really sing it. When I have songs that I don't connect to emotionally, then I don't tend to hang on to them. "
I always think the good thing about lyrics is that people can always put their own interpretation on them. In the song 'Bad Hair Day' you have the line "whatever I do is a bad hair day", I interpret that as someone who's trying to come to terms with being under a cloud, and trying to breakout into better times, is that about right or a million miles away from what you were trying to convey?
"No, that's just about bang on. That's another thing that I wanted to do on this record and in the future with my songs, was to make it crystal clear. I don't really connect to writing that is not obvious, I like it where people express things really well. I like it when lines are so clear and visceral, that you just have this immediate impact. I don't like flowery language. I love to write and I love to make rhymes within phrases but I want it to all make sense the first time you what it. I think that's harder. I don't like Jack Kerouac as much as I like Sylvia Plath. Sylvia Plath executed every line with a furious specificity. You could really feel the passion in her words. You knew exactly what she was talking about, but you could never put it better yourself."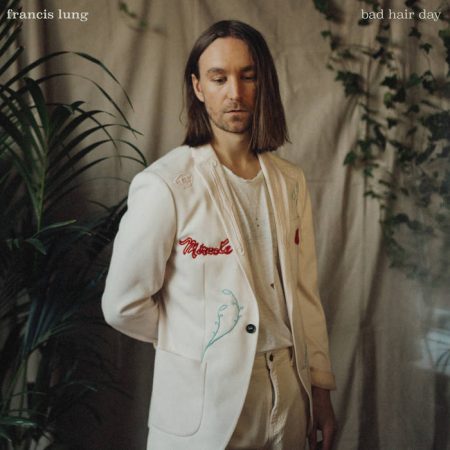 Musically, the album has a huge sounding melodic production to it, and captures the classic song writing style of not only Elliot Smith but also people like Harry Nilsson, and Brian Wilson, did you have that epic sound in mind when you started writing for this album?
"I love Harry Nilsson and 'The Let Down' is a big nod to him anyway, the intro is so much like 'Gotta Get Up' (classic Nilsson tune), I reference the first line of that song as well. That song started me off on that journey to make my song 'The Let Down'. I thought I'll just make it obvious, because I don't mind about referencing people. Those 70s records like 'Ram' by Paul McCartney, 'Nilsson Schmilsson' or 'Emitt Rhodes',  those three records, I'm totally obsessed with as they're very personal sounding but still expansive. I love when it feels like everything's very close but you're surrounded by a big world. There's a lot less reverb on this record than anything I've done before, as I wanted it to feel close."
You recorded the album at the brilliantly named Giant Wafer Studios. Why did you choose to go there and what did that bring to the album?
"One of my best mates the producer Brendan Williams, he loves it there, it's really good value, there's really good equipment, and the room sounds are really good, and because it's so far out in the middle of Wales, you get a good price and it's residential, so you can really immerse yourself in it. We spent about ten days recording, and because of that immersion for me it's like a holiday. I'm a teacher full time, I teach English to French people mostly, and all my work is online. All the music stuff, even though it's half my life and probably half my income, that's like my release, my holiday. So going and spending a week in Wales was great, it's like, brilliant, I can go and pretend to be a musician for a week!"
Do you feel in a happy place now that the album's going to be out there?
"I feel like I'm in a good place, but not necessarily due to any reviews of the work, I mean I hope people like it and connect with it. I think I just had a sort of a moment of realising that I wanted to feel better generally in my life, which has led to me stopping drinking. I don't know if I drank any more than anyone else, but I felt like I thought about it more than other people did, so I thought that removing that from my life might help me have less of those moments, the darker moments that I maybe sing about on some of the songs. I never knew anything else, so I thought I'd do something drastic like stopping drinking. I'm definitely in a happier place, just because I have  a new challenge really."
How have you been coping in these strange times, was the album already started when the pandemic struck?
"In February 2020 we were supposed to go and record this record and it got pushed back because of the pandemic. This record was mastered in January 2021, so it's already been done for three months, it's already been mixed for maybe five months, and so in that time you just keep writing and keep accumulating songs. So, it was nothing to do with the pandemic really, I mean it did add two songs to those original demos, which were 'Uncommon' and 'The Let Down'. I think the only really pandemic influenced thing is just when it was starting to happen I wrote 'Uncommon' and the section in the middle has this sort of modulation, which is quite unusual, and I was just singing these words "uncommon is coming, it's unnerving, so easy", like something is so easily overtaking us, which is sort of a reference to a virus slowly and unnervingly taking over the world as we see it. That part of the song was directly influenced by that, feeling really creeped out by something that's beyond your control. But it was also a song about the expectations that people have of an artists. Like you have to make something totally original, it can't sound like anybody else, and then when you think you've made that, someone else is going to turnaround and tell you that you've failed. Those were kind of like the thoughts going through my head, probably that every artist has to deal with, I mean it's so hard to be truly original these days."
Well there's only so many chords and variations you can use, everyone borrows a bit from generations that have gone before.
"I think music isn't built on who's writing the greatest song. it's a combined package of trends, your public image, your story that you're trying to sell and the music. When all those things coalesce, you get what is a buzz band I guess. Like my old band WuLyf were a buzz band I suppose. We weren't the greatest band ever, we weren't the greatest band of that moment, there was definitely better music out there than us. It wasn't because we were the best band that we were the most famous within our circles for that time, it's just that idea that all the spheres aligned or something (laughed), and I guess that the song 'Uncommon' is a little but about that, as it says try do do something uncommon, like try to do something original."
What have you missed most or enjoyed most about adapting this new situation we all find ourselves in?
"I really miss my friends, and I've missed casually seeing people and it being something that you do most weekends. I didn't slow down working at all. I've been self-employed throughout the whole thing, and if anything I've been busier than ever, as most people have been stuck at home, and so they've thought 'ok I'm going to take English lessons'. I missed not having to plan everything to the nth degree, you know what I mean, and now I really appreciate my time with people in a way I never did before."
Francis Lung's album 'Miracle' is out 18th June 2021 on Memphis Industries, also check out the brilliant spoof on the 'Classic Albums Series' TV shows in his video for the recent single here  The Let Down   . 
Francis Lung plays:
London: The Victoria, Dalston – 1st July 2021
Manchester: The Deaf Institute – 2nd July 2021