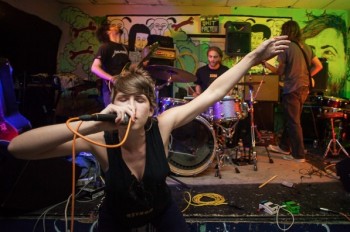 Guardian Alien, led by drummer Greg Fox, are an integral part of a new wave of New York avant-garde musicians. Taking inspiration from those that came before, such as Milford Graves (with whom Fox has studied), and the great minimalist composer Rhys Chatham, Guardian Alien rejects previously established forms while selectively contorting elements of many into a wholly unique and personal new order. Striking a unique balance between sounds produced acoustically and electronically, its latest work, Spiritual Emergency, shows the group harnessing instability and cosmic fluctuations, pushing its sound in multiple directions simultaneously to create a pivotal moment in the post-modern New York underground. 

Greg Fox is joined on this recording by Alexandra Drewchin (vocals/electronics), Bernard Gann (guitar), Turner Williams (shahai baaja) and Eli Winograd (bass). Spiritual Emergency was recorded by legendary engineer and producer Wharton Tiers (Sonic Youth, Glenn Branca). Wharton mixed the album live, riding the faders as he imparted his distinctive sonic presence. The album's first side consists of a series of radically different improvised vignettes, beginning with the hushed, intricate tabla rhythms and cut-up vocals of "Tranquilizer" before launching into the brief, ecstatic bursts of "Mirror" and the robotic syncopation of "Vapor," finally peaking with the fuzzed-out wall of drone that is "Mirage." 

The sidelong titular composition that resides on the flip begins with a recording of Stanislav Grof reading from his book from which the album takes its name, literature that informs the structure and nature of the music to come. When Fox's polyrhythmic pounding and Drewchin's bubbling electrics enter, the piece quickly escalates and never sits still, the quintet reveling in the metaphysical revelation that results in the ensuing 20 minutes of reflective frenzy. The piece, which was honed on the road for over a year before being laid to tape, is the most definitive statement of intent the band has released and is a harbinger of the wildly eclectic things to come. 


Shortly following the recording of Spiritual Emergency, Williams and Winograd left New York to pursue other opportunities, cementing Guardian Alien as the current trio of Fox, Gann, and Drewchin. Fox, who also currently plays as a member of Zs, has continued to collaborate with a remarkable array of musicians, including Ben Frost, Colin Stetson, Dustin Wong and Kid Millions. Guardian Alien will tour extensively in 2014 in Europe.

Tue July 8th London – Power Lunches

Wed July 9th Cardiff – The Moon Club

Thu July 10th Manchester – Islington Mill