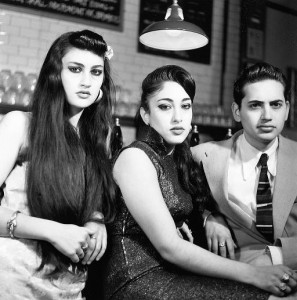 – THE RUBY LOUNGE, MANCHESTER –
Inadequacy is not something that anyone would willingly choose to suffer from, but tonight I'm going to put myself in the firing line by going to see Kitty, Daisy & Lewis at Manchester's Ruby Lounge.
I first heard them on the wireless on Phil Jupitus' 6Music breakfast show back in around 2005 with their first single 'Honolulu Rock and Roll'. After the song had finished Jupitus went on to explain that Kitty, Daisy & Lewis were in fact two sisters and a brother from Kentish Town. Now at that time they were very young, in fact stupidly young to be so talented.
Now I don't reckon I'll be the only person who heard about this young musical trio and half expected that three kids in a band with their mum and dad would at some point think to themselves that this is not cool and knock the whole idea on the head. I know I would have done as a teenager. But this is where people like me differ from people like Kitty, Daisy & Lewis and also why the world is a better place because of people like them. That might sound like an exaggeration, but I'm not referring to them as individuals or even as a trio or family. What I'm referring to is young people, or in fact people of any age with dedication to stick at something and become not just good at it, but proper ace at it.
So, the gig. I've got a good spot down the front to see what I'm begrudgingly expecting to be an exhibition of talent. Now I know the band is made up of the three in the acts name and I also know that the band includes mum and dad still, well why fix summat that aint broke eh. I take a glance at the stage to see a whole array of instruments. Maybe the band have expanded because I count 5 guitars, a banjo, a drum kit, a ukulele, a keyboard, a double bass, a xylophone, the list goes on.
As it turns out the line up is still the same and the five family members take up their places on stage. This means that all these instruments laid out before us are to extend the talent show even further, and this is where the fun of keeping inadequacy at bay begins, or so I expected.
Throughout this show of excellence the three siblings swap positions and instruments as often as I would change my hobbies as a child. Mum plays the double bass for the most of the night and swaps this for bass guitar at one point. Dad is sat at the rear left on a small stool with his acoustic guitar, which is also put aside from time to time and replaced with ukulele or banjo. He plays so intently that at one point does flailing thing where you half nearly go over backwards, much to the amusement of Lewis and their roady/stage tech.
All feelings and thoughts of wishing I'd done more with my childhood and actually seen something through that I could have used in my future life, are being cleansed away by the fifties rock and roll that is being played. Tonight I can clearly see why these three have stuck at this genre, as it's ridiculously addictive. I go to a lot of gigs and even at the really good ones you can sometimes get a little bored towards the end, but tonight the opposite is happening. And not just to me, the whole crowd are getting bouncier and happier by the song and by the time we have our encore, I kid you not, there is a whiff of hysteria in the room.
I'm so bloody glad I came to see Kitty, Daisy & Lewis tonight and the best for me tonight has been when we've had Kitty on harmonica, Daisy on drums and Lewis on guitar. Yes they are fantastic on any instrument they decide to pick up, but when on these, they take you to another place.
http://kittydaisyandlewis.com/
http://www.sundaybest.net/site/artists/index.php?articleId=374