Hurts are set to launch a European tour this Autumn starting in September in Stuttgart and ending at the O2 Academy Brixton in November.
Theo and Adam released their debut single "Better Than Love" 12 months ago. Since then they have sold over 700,000 albums and more than 1 million singles so far worldwide.
Crowned NME's Best New Band of 2011 at the recent NME Awards and with their debut album "Happiness" both the NME and Popjustice's Readers Album Of The Year, HURTS are now announcing their biggest European tour to date. They will be covering Germany, Russia, Croatia, Austria and Switzerland before returning to UK.
September
30th – Stuttgart – Porsche Arena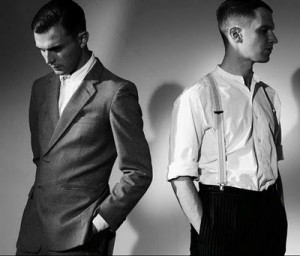 October
1st –  Frakfurt – Jahrunderthalle
2nd –  Munich – Zenith
4th –  Dusseldorf – Philipshalle
5th –  Erfut – Thuringenhalle
17th – St Petersburg – Glav Club
18th – Moscow – A2 Club
23rd – Zagreb – Bocarski Dom
26th – Milan – Alcatraz
27th – Innsbruck – Dogana
30th –  Zurich – Maag Event Hall
November
2nd –  Brighton – Centre
3rd –  Glasgow – O2 Academy
4th –  London – O2 Academy Brixton