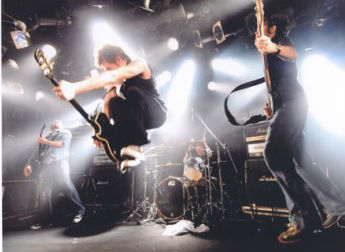 – SOUND CONTROL, MANCHESTER – 
About 10 years ago as a younger, thinner gig goer I saw Allister play in Manchester supporting their then new release Last Stop Suburbia. A decade later Allister are playing that album in full, plus more. It's at Sound Control, a venue I've heard about but actually not been too until this week.
The venue I must say is really good, the sound is excellent and although Allister are playing the smaller room it really suits the intimacy that the fans desire.
The first support act seemed to have brought their entire family including some really ignorant TOWIE like wannabe's that talk all the way through bands, really annoying and thankfully they left early! I'm not sure what they expected from a punk rock show but I found that I was more annoyed with this following than what the first band actually sounded like!
So to Heroes for Hire, an Australian band who take parts of The Ataris/New Found Glory and create a sound of melodic guitar driven punk which ticks all my boxes. The Allister fans get it and purveyors of that sound also appreciate the quality of songwriting and playing that these Aussie lads have. Fantastic new song 'Hate Myself Again' slots beautifully alongside anthems like 'Secrets, Lies and Sins' and 'Skeletons'. I for one was really impressed and have got the album straight away. I advise you to seek them out!
Allister. Wow! As pop-punk bands go they are up there at the top without a shadow of doubt. Tunes, got 'em. Sing-a-longs, tick. Songs that you hum and sing on the drive home – tons of them. Tonight is a brilliant set of crowd-pleasing, in your face non-stop anthems. So the setlist is pretty easy to follow, it's basically the album 'Last Stop Suburbia' song after song. Starting with 'Scratch' and straight into 'Radio Player' the swapped vocal harmonies of Tim Rogner and Scott Murphy both compliment the songs and energize the room. The audience interaction is there and the energy fills the room. The set flows as does the album but as fans know the main event is the immense single that is/was 'Somewhere on Fullerton' an ode to the Chicago venue where it all started. This song is and should be in the top five of all time great pop-punk songs and to be honest tonight they play it as if it had been written for everyone in the room that has a special place they remember in their heart. It really is the highlight of the night, no anti-climax. The main problem is that it's really hard to follow that song, to the extent that some members of the audience want it again! Thankfully the set continues and the magnificent 'None Of My Friends Are Punks' provides another highlight.
My son and me attended this show and I don't know who was more excited! He jumped around as I did and we both left with massive smiles on our faces. If you have never heard Allister go check them out and listen to 'That Song' and you will be smiling all through the summer. I'm still smiling now writing this. Brilliant!