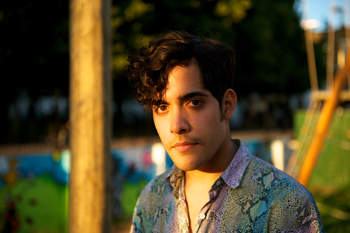 Ahead of Neon Indian's return to the UK next month for a sold out show at London's Village Underground and a special performance at the Manchester leg of the Dot To Dot festival, you can now hear this remix of new single 'Hex Girlfriend' by producer Becoming Real. 'Hex Girlfriend' is out next week on Transgressive Records and you can stream the remix below.
With a string of 12" releases and support slots with SBTRKT, Salem and Mount Kimbie under his belt, South London producer Becoming Real – real name Toby Ridler – has continued to intrigue the music press over the past two years and remixed tracks by the likes of Jamie Woon and TEETH. Now he's turned his attention to Neon Indian and merged his distorted and ethereal style with Alan Palomo's huge electro-pop soundscapes.
Becoming Real's remix became available to buy, alongside the original version, on May 28th. The release also includes Twin Shadow's remix which was originally made available on the special Record Store Day vinyl release of 'Hex Girlfriend' earlier this year. 'Hex Girlfriend' is taken from Neon Indian's critically acclaimed album 'Era Extrana', which is out now.
Following a UK tour that included a stellar performance at London's Heaven in November last year and an extensive US and European tour through April and May, Neon Indian will be returning to the UK in June to play the following shows:
June Dates:
4th: MANCHESTER, Dot to Dot
6th: LONDON, Village Underground (SOLD OUT)
The album 'Era Extrana' is out now through Transgressive Records.