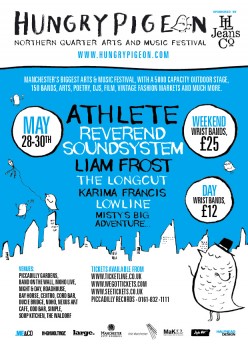 – NORTHERN QUARTER, MANCHESTER –
"Yeeehaaaa," I yelp, as The Travelling Band stop teasing the packed Band on the Wall audience and bursts into the chorus of their latest single, Sundial.
It's a wholly unexpected reaction, triggered as the full force of the Manchester band's four-part harmonies reach a crescendo and the specially-assembled strings and horns section kicks in.
Thankfully – both for me and my wife, who is equally shocked by my impromptu Wild West cowboy-style holler – I am not alone.
One "yeeehaaa" from me is quickly echoed around the room as the sweaty crowd loses its "indie cool", replaced by an overwhelming urge for a hoedown.
It's a scene I could have never imagined growing up in Manchester in the halcyon Hacienda days, when baggie jeans and Kickers were the uniform of choice and everyone bobbed their heads in unison to the sounds of rave and indie.
Jump forward 20 years and Band on the Wall is being whipped up into a fervour by six local lads playing their own brand of acoustic West Coast rock, sporting wavy long hair and beards, looking like they walked straight off the set of '70s film Dazed and Confused.
The fact that a pissed-up Manc crowd is being seduced by it is a sure-fire sign that the city, and its music scene, is growing up. If it's good, and honest, there's a place for every musical style and genre here.
If you don't believe me, why not spend the rest of the day (Sunday) wandering around the streets of the Northern Quarter, dropping in at the different Hungry Pigeon venues.
Hungry Pigeon provides the proof, if it's needed, that all are welcome in Manchester.
At least that was my experience yesterday (Saturday).
My seven-hour, booze-fuelled ramble started with the delightful Jessie Rose Trip in Piccadilly Gardens and was followed by headliners Athlete (pictured right), City Reign in Night and Day, and the very scary To The Bones at The Roadhouse, before ending up with The Travelling Band at Band on the Wall.
I can't say that they were all my cup of tea. City Reign were a bit formulaic – indie-by-numbers – and Athlete are a bit tame for my liking, sort of a poor man's Snow Patrol.
To The Bones gave me a bit of a shock. The four-piece Bolton band have had quite a bit of good press over the past couple of years and I had been meaning to catch them for ages.
For some reason I imagined that they were kind of a northern take on The Libertines. Not quite, unless Pete Doherty has been reincarnated as Lemmy with a serious amphetamine problem.
I'm not that into thrash, but anyone that is should probably check out To The Bones. Whatever your tastes, you've got to be impressed by their intensity.
My two highlights, however, nicely book-ended my day.
I started with my first taste of The Jessie Rose Trip (pictured below) and will certainly be returning for a full helping.
The UK has been spoiled by a raft of bands with quirky, creative and original front women in recent times and The Jessie Rose Trip are certainly a worthy addition to the likes of the Ting Tings, Paloma Faith, Florence and the Machine and Marina and the Diamonds.
And it's fair to say that, given my embarrassing, high-pitched reaction to The Travelling Band, I will be taking a closer look at them in the near future.
But after my first day of Hungry Pigeon, I would have to say that the real winner of the festival is Manchester itself.
It's a strange thing to be standing outside Noho in Stevenson Square, wrestling with the wind for control of a colourful map as I plot my next course of action like some kind of urban orienteering exercise.
It's even stranger to look up to see three other couples doing the same thing, desperately trying not to look like a tourist in their home town.
In many ways, it is more fun to play 'festival Russian roulette', wandering around the dozen or so venues in the Northern Quarter that are taking part, leaving your fate to chance.
With all of the live music on offer, not to mention the poetry, art installations and vintage clothes sale, you are bound to find something you like, eventually.
As for today, I think that it would be rude not to check out local lads I Am Blackbird and Liam Frost at Band on the Wall, before nipping down to Moho Live for the closing party, capped off by a full acoustic set from Kid British.
"Yeeehaaa!"