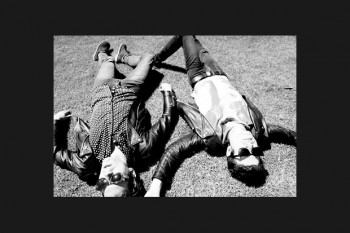 Crocodiles represent everything about life-affirming Rock'n'Roll: they bring light out of darkness; they match reckless noise with the most beautiful melodies; they catch you off guard whilst sounding like the most perfect kind of right for the right here, right now.
Charles and Brandon have been making music together since they were 18.  They met in the dirty glow of San Diego sun and now split their lives between New York City and London. Their music has grown up over the last decade just as they have.
Their new LP 'Crimes Of Passion' (released 19th Aug on Zoo Music) kicks off with 'I Like It In The Dark,' which could be their best to date; a joyous hymn to atheism and closes with the aching beauty of 'Un Chant D'Amour,' a simple and direct ode to heartbreak. These songs bookmark an album bursting with sounds inspired by the likes of the Soft Boys, Street Hassle era Lou Reed, the Notorious Byrd Brothers, the Jackson 5 and even Glenn Branca. This is certainly the most fully realised Crocodiles album to date.
Have a sneak preview of their track 'Cockroach' and catch them on tour in the UK this August.
http://stereogum.com/1354862/crocodiles-cockroach-stereogum-premiere/mp3s/
25/8 Glasgow Broadcast
26/8 Edinburgh Sneaky Petes
28/8 Leeds Brudenell Social Club
29/8 Manchester Ruby Lounge
1/9 Larmer Tree End Of The Road Festival
3/9 Brighton Sticky Mikes