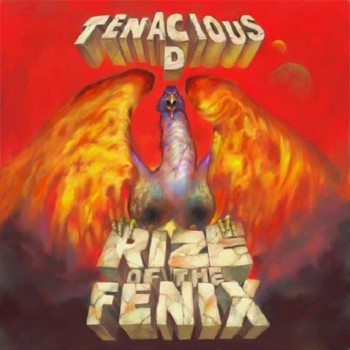 Kyle Gass, half of the core duo behind Tenacious D, has gone on record to argue Rize of the Fenix, third longer player from this most awesome of rock acts is "much like Nirvana's first album Bleach or the Beatles first album Help. Rough and yet a masterpiece."
And how could a humble music reviewer possibly argue the soggy toss in the face of such majestic, powerful, awesome rock & roll? The rock… the roll… it's like a left-right combo, knocking you all about the ring. And talking of knocking you around the ring, how about the lyrics? Regard, if you will, the following offering, from the album's opening track 39: "When we text each other, I fiddle with my a-nus / I stick a finger in it / Then I fucking diddle-riddley doo". I don't know what a diddle-riddley doo is. Nor do I want to find out. Better left with the professionals.
Those unacquainted with the meteoric rise of the Tenacious D, unaware of the appalling English spelling that haunts their album, or the fact that the other half of the Tenacious D is actor Jack Black, may need to insert their tongue into the furthest reaches of their cheek. And certainly not the sort of nefarious places Jack Black would like you to put it.
A concept album of sorts, Rize of the Fenix concerns the nadir of the band following the poor box office of the Pick Of Destiny movie. Dejected, rejected… summarily ejected from the music scene, this album sees the boys get back on the good foot, tracking the rize (sic) of this fenix (sicker) as they strap their guitars back on, plug in, and whack the Marshalls up to 11 – two fingers rock & roll to the haters haunting tracks like 'They Fucked Our Asses'. The album shows the sheer range of their ability – from the Tex-Mex of 'Senorita' to the epic.. erm… ness.. of 'Roadie', which resides in a sub Bon Jovi realm (if such a place exists) to the acoustic power of 'Ballad Of Hollywood Jack'.
For some insane reason, Dave Grohl picks up sticks to give a solid backbeat to this random chaos. Each track paints whole worlds in lyrics and melody; worlds of loose women, loose morals and loose underwear. Christ, Jack Black even scats on 'Low Hanging Fruit'. And when this temporal world is too small to contain their imaginations, they leave this planet for the sci-fi thrash rockery of 'Deth Starr'. In between, comedic interludes like 'Flutes Are Trombones' and 'Classical Teacher' offer welcome breathing space. But really, and despite all medical and religious advice, we really want to dive back in, to be back amongst the music.
Believe. The Fenix has rizen. And they're playing the 02 Apollo on June 10th. Manchester… we need to start building our defences now…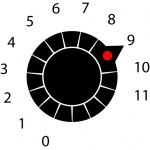 Release Date 14/05/2012 (Columbia)