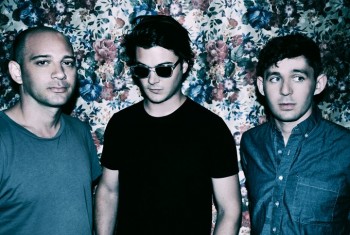 – ST. PHILIP'S CHURCH, SALFORD –
St Philips church Salford provides a stunning backdrop for tonight's gig with the sun shining through the stain glass window behind the altar/stage and the instruments adorned with flowers. Everything is perfectly set for Brooklyn based act the Antlers to perform the moving and poignant tracks about love, loss and isolation from last year's excellent album 'Hospice.' It should be a truly memorable evening, but unfortunately, despite the setting, things don't quite work out that way.
Opener 'Kettering' gets things off to a fine start, with the verse sounding fragile and delicate, until the drums kick in and turn it into something much bigger and more anthemic.
Its second track 'Sylvia' which really sets the tone for the evening though. The track has been severely beefed up from its original album incarnation, and the barely audible vocal covered with layers of ambient drone has been replaced with rolling drums and swirling keyboards. As a result of this when the chorus finally arrives it just blends into the verse, losing the dramatic impact it has on the recorded version.
Peter Silbermans vocals also pose a problem this evening. He undoubtedly has a beautiful and expressive voice but throughout tonight's show he tends to be a little over theatrical and exaggerated, at times verging on warbling. While it's easy to understand his desire to show of his voice the message of the material is so dependent on its delivery, and as a result it's sincerity and sentiment are often compromised.
'Two' continues in the same vein, and at times is so bombastic and joyous that the music and lyrics seem totally ill fitting, and the church organ sounds at the end (possibly added just for tonight's show) sound a little too cheesy, while their cover of 'VCR' by The XX as part of the encore is ill-advised but not as terrible as it could be.
Despite all of this there are still plenty of highlights and moments to remind you of how great The Antlers can be. 'Shiva' and 'Wake' are both brilliantly executed, and remain moving and believable, and closer 'Prologue' is kept simple and benefits from it.
The Antlers have been touring this same material relentlessly since they played the Deaf Institute at the back end of last year. On that night they managed to really strike a balance between staying true to the sombre narrative of 'Hospice' while creating an entertaining show. Since then they have continued to develop live versions of these songs, and often over egg the pudding. It seems the passion and plausibility of some the songs have been lost, and that was what made them so special in the first place.