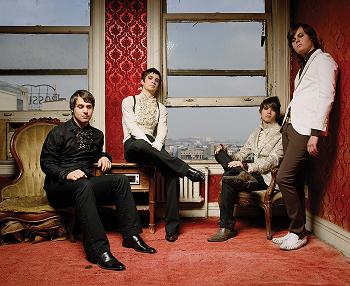 – ACADEMY 1, MANCHESTER –
You know you're getting old when you arrive at a gig and the bar area is pretty empty even though the show is sold out. I feel a little concerned that the new breed of Panic At The Disco fans has left the old ones behind.
Maybe the departure of founder members Ryan Ross and Jon Walker in 2009 has left a void, maybe a new album Vices & Vultures that reverts back to the baroque rock of their first album A Fever You Can't Sweat Out (2005) has been dismissed after the pretty drab pop psych affair that was Pretty Odd (2008), or maybe it's just because people change. Well for the older ones out there who didn't come down to Manchester Academy tonight you missed something a little special.
The Reverend Brendon Urie preaches to the crowd akin to a ringmaster in a circus. There's a new attraction in town, something is brewing. He whips the crowd to a frenzy before plunging headfirst into 'Ready To Go' from the new album. A mixture of synth driven pop rock with the trademark quirky lyrics gets the blood pumping around the veins. By the time 'The Ballad of Mona Lisa' hits us third song in the singer has the crowd eating out the palm of his hand.
Manically laughing his way through 'Lying is The Most Fun A Girl Can Have Without Taking Their Clothes Off' (which is possibly the best song they have ever written). Brendon Urie is a singer possessed with pleasing his crowd. 'Trade Mistakes' comes thundering past and it's quite reminiscent of the way My Chemical Romance have embraced a colourful new world. 'Camisado' continues in the same way. The mixture of their first and new album, driven by Spencer Smiths drumming clearly shows that the pretty odd second album has been pushed aside and normality has resumed. 'We do get Nine In The Afternoon' and 'That Green Gentleman' but these pass me by before the ringmaster gets out his guitar and performs 'New Perspective' from Jennifer's Body soundtrack which smoothly creeps into 'Billie Jean'!!
The onslaught continues with a new song 'Memories' then Panic play 'Panic', a nod to the Manchester venue and band they love. 'I Write Sins Not Tragedies' closes the show with a bang and the hour and fifteen minutes have disappeared.   The new breed leave with smiles and fond memories whilst I depart knowing the real Panic At The Disco are back and firing on all cylinders. Keep calm and carry on.