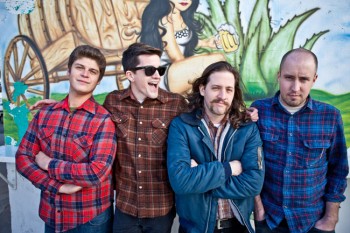 Austin, Texas quartet The Young have kept a somewhat shadowy profile since their inception in 2007. Guitarist/vocalist Hans Zimmerman expanded his home recording venture into a full-fledged, elite punk unit with the additions of bassist Jason Costanzo, guitarist Kyle Edwards and drummer Ryan Maloney, undergoing a stylistic shift shortly after the release of their first two 7" singles.
With little regard for public reception, The Young would soon opt for something far more experimental in nature. Following an appearance on Matador's Casual Victim Pile compilation in 2010, the band recorded a full-length debut 'Voyagers Of Legend', released as a limited edition for Mexican Summer, which was characterized by Andrew Earles as "a masterpiece of exhumation that uses once-dead sonic vehicles to communicate uncalculated, uncontrollable soul," staking claim to The Young as the next great American psychedelic wonder.
Over the course of 2011 the band went through further sonic shifts, sharing stages with the likes of Sic Alps, Kurt Vile, Pierced Arrows, Endless Boogie and other masters of modern rock guitar, their meticulous interplay becoming both uncanny and unstoppable.
'Dub Egg' is the product of a band isolating themselves for their all-analogue, self-produced recording, taking only "a mountain of amps and guitars, 1" 16 track tape machine, loads of beer and holed up for 5 days in August. When we weren't rolling tape we were fishing, bbqing, and playing horseshoes." (- Hans Zimmerman). The result is a record that's the sort of shimmering, incandescent, modern approach to classic rock that would have been unimaginable from these guys just a couple of years ago.
With equal echoes of Crazy Horse, Television, Quicksilver Messenger Service and a youth spent dissecting 90's underground Indie-rock; its classic Matador meets classic rock, all tied together with a quiet confidence in a crafted and explosive manner.
Release date: Monday, 25/June/2012 through Matador.