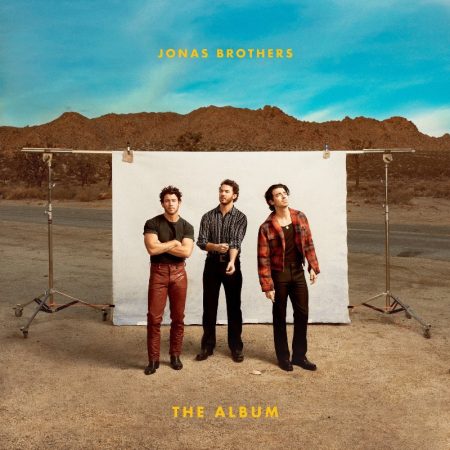 We've all seen Camp Rock, right? Even if not, you must know who the Jonas Brothers are. As creators of the 2007 single 'S.O.S' and stars of the Disney Channel series Jonas, the group of three have definitely left an imprint on those who grew up in the early 2000s, and with their new record, The Album, they're back to leave an impression on those who missed out before.
Released at the perfect time, The Album delivers perfect summer tunes, with constant uplifting music and nothing but a happy atmosphere. Glazed in consistent positivity, there really is no unlikeable track. Finally, an album without the odd sad song that always has to be skipped.
Listening to 'Montana Sky', I can't help but think of Anderson .Paak, with a somewhat soulful opening, leading to slow vocals. As the chorus hits, the song only becomes happier, bringing cheerful guitar and loving lyrics. Repeating the chorus for the majority of the track, it gives for an almost motivational feeling, relaying happiness through every second. The whole song is just extremely beautiful.
A bold voice backed by echoes kicks off 'Sail Away' – a track that sees the three brothers playing with the tempo of the vocals to create something immensely exciting. Maintaining this enthusiasm throughout, with a more exotic musical take, there is no better way to describe this piece than a song for sitting by the sea. Showing off his vocal talent, Nick Jonas nails the bridge, and introduces a more elated version of the chorus, until the slow, yet powerful outro takes the spotlight. In just one track, there is so much to listen to. I could never get bored of this song.
Having said that this track reflects on their younger years of being a band, the waffle house is where the three would go for a break, claiming that this was their version of going to the pub to wind down after working so hard. I don't know about you, but I think that's insanely adorable. Through the form of a punchy chorus and unique beat, 'Waffle House' is an unbelievably catchy song. In an industry where love songs pretty much overtake every single artist's work, listening to the Jonas Brothers sing of their memories with one another is so special.
Saved for last are the two slower songs of the album – 'Little Bird' and 'Walls'. Although anomalous to the vibrancy of the rest of The Album, they don't hinder the beauty of it. A love letter to their families, the three brothers worked together on 'Little Bird' to form an ode to the loves of their lives.
'Walls', created with Jon Bellion, takes quite a different approach to the other tracks, with quite obvious autotune and much more prominent alterations. Fused with elegant lyrics, I can't help but think that this track would be more touching if it was a little bit more natural. However, nothing could take away the sublimity of The Album.
After discovering what they can do as solo artists, Nick and Joe have rejoined with each other and Kevin to create the brightest version of a masterpiece. Each track on The Album holds something so unique, and it's obvious that they poured every bit of their hearts into this record. I will willingly admit that I will be playing these twelve tracks repeatedly throughout the entire summer, and you should do the same.