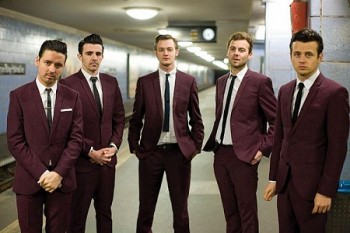 – THE DEAF INSTITUTE, MANCHESTER – 
I find it hard to be critical of any band that manages to ad-lib 'Surfin Bird' into their live set (as part of Rhythm Revue) and so it is with The Computers. I think the term 'reinvention' would be a fair description of how they have changed or developed from their Exeter roots as a kind of Manics/punk/indie influenced scallywags.
The new album, Love Triangles, Hate Squares sees them jostling for elbow room with the elder statesmen of Punk Rock Blues, The Jim Jones Review. It has to be said, apart from having youth on their side, there are times tonight when there's little to distinguish between them.
Resplendent in burgundy suits, the band go at it full tilt, it's great to see a band with personalities all vying to be the centre of attention. Try as they might, there's no out competing frontman Alex Kershaw, who's already singing from the bar top two songs in. The set kicks off with a brace of songs from the new album, 'Bring Me The Head Of A Hipster', 'Love Triangles, Hate Squares' and 'Mr. Saturday Night'.  'Bring Me the Head Of A Hipster' and 'Love Triangles', remind me a little of Rocket From the Crypt, who by the way are long overdue for a return to live shows, and a full reformation looks set for later on in the year. I think the sharp suits make comparisons with The Hives an easy reference, but there's far more soul and British 60's pop influences to many of the new songs.
Whilst The Computers aren't breaking any new ground, they are expanding musically and gleefully ripping through the Motown, Garage punk and rock n' roll back catalogue. The sheer energy and force of nature live is compellingly infectious and just about everyone in the room is shimmying and a shakin'.
Leaping off the bar, Screaming Al  is  bopping with the audience, then he's at the back of the room leading a shout-along before returning to the bar to introduce 'Train In Vain' by The Clash which is given a soulful sheen. It's a good example of another great band who while at their peak musically, as punk standard bearers, weren't afraid to leave their origins behind and explore new musical avenues.
The Computers may have lost some of their old following but they are destined to find a much bigger audience with Love Triangles, Hate Squares.  Oh, and they have great hair too.