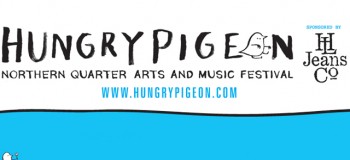 It's the last Bank Holiday weekend of May and the Northern Quarter is buzzing with music around every corner. One wrist band guarantees you an invite to the party, so what are you gonna do expect dive in head first?
Alex McCann is one of the four wise promoters we have to thank for this three-day indie bender. I caught up with him to get a sneak preview of Hungry Pigeon.
How did you get involved with promoting gigs?
The whole Hungry Pigeon team are individual promoters in their own right, but we came together for last year's event as we wanted to work together to create an event for Manchester rather than working against each other.
Personally, I got involved in promoting gigs through my day job. I run a website called Designer Magazine and I decided that I wanted to throw a party to mark its fifth birthday. My gig promoting evolved from there and since then I have put on the likes of Kids In Glass Houses, Bombay Bicycle Club, Dear Eskimo (now the Ting Tings) and various members of The Kooks, Gallows, The Wombats etc.
Between us, the Hungry Pigeon promoters have put on countless great bands, including the Arctic Monkeys, Babyshambles and Twisted Wheel.
What important things have you learned so far from your experiences in the music business?
Never be afraid to adapt and do something different. Also, expect the unexpected….but I think that's what makes it exciting. I've always put on bands I love. I'm in it for the music. The best thing for me is discovering a new band and putting on their debut gig. Nothing beats that feeling of being the one that discovered a truly amazing band.
What is the concept behind Hungry Pigeon?
Essentially, Hungry Pigeon was set up to promote Manchester's Northern Quarter as a real cultural hub. From that we got involved not just in music but in all areas of the arts, such as poetry, film screenings, art exhibitions and virtually every area you can think of.
The centre piece of the whole event is the outdoor stage in Piccadilly Gardens, where Athlete will be headlining. They will be supported by local talent, such as May 68, The Jessie Rose Trip, George Borowski and a host of others. The outdoor stage this year will be hosted by Manchester legend Clint Boon.
The focal part of this year's arts programme will be Xposed, an exhibition of photographs by Karen McBride, which will look at 10 years of Manchester music across five venues in the Northern Quarter.
Also, thanks to sponsors HL Jeans Co, we have got our own limited edition Hungry Pigeon T-shirts, which will be available to gig-goers on the Saturday.
What was your highlight of last year's festival?
There were so many highlights last year but Kid British and The Travelling Band in Piccadilly Gardens stood out for me. I've lived in Manchester my whole life and the last time I can remember anything musical happening in Piccadilly Gardens was James playing on the Piccadilly Plaza roof in the late '80s.
What can we expect this time around?
My advice is to watch as many bands as you can. I'm going to try and catch a bit of everything.
I saw Reverend Soundsystem last week and they're going to blow people away. Jon McClure has dropped the guitars and is making essential banging dance music.
If you fancy something quieter, there's Liam Frost, Thom Kirkpatrick from Switches and new Decca signing Kirsty Almeida.
And then there's great bands such as Lowline, The Longcut, Orphan Boy and up and coming talent such as Of The True Class, Belle Vue and Echo Deck.
I'm also looking forward to seeing a few acts that I haven't seen before, such as JP Cooper of Eskimo Cowboy at Night & Day on the Friday night or Catfish & The Bottlemen on Sunday at Moho Live.
Does the line-up reflect your own personal taste in music or the music scene in Manchester?
I think it's a mixture of both really. With four different promoters on board we all have our own favourites – the line-up is a consensus between all of us.
The quality control is really high on an event like this and I think it stands as a good representation of the best Manchester bands around at the moment.
Do you have any hot tips for the future?
May 68, who are playing on the main stage, are looking set to be among the next wave of Manchester bands.
The Sport from Stoke have been bubbling under for a while and everybody seems to be talking about Janice Graham in Manchester. The Sonic Waves are a Manchester super-group and they will be playing Room Two of Moho on Friday night so definitely check them out.
What does the future hold for the festival – can you see it growing into a Camden Crawl, SXSW or Edinburgh Festival, or maybe something unique to Manchester?
Who can tell what will happen next year. The two events everybody seems to mention when talking about Hungry Pigeon is Camden Crawl and D Percussion, which is a real compliment, but I think where we differ from both of them is the arts programme, which each year seems to grow bigger and bigger.
Hungry Pigeon kicks off on Friday, May 28. To check out the full line up visit www.hungrypigeon.com