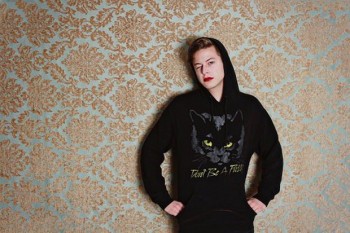 – THE DEAF INSTITUTE, MANCHESTER –
The buzz of a full-bodied Deaf Institute is never anything less than thrilling, but tonight is special.
We are blessed with a venerable safe pair of hands to open proceedings – Cate Le Bon is such an established and cherished figure in the national music scene that she actually headlined her own show in this very venue over two years ago. Flying solo tonight, she is confident in her role, and her genteel exchanges between songs indicate that she is genuinely excited to be back in, as she describes, "one of the best venues in the UK". Her set, all too short, is an unbroken run of astute, observational indie folk arrangements, with new songs rubbing shoulders with old favourites like 'Sad Sad Feet'. In fact, it is her contribution to the Record Store Day festivities, 'Time Could Change Your Mind' that lingers longest, both melodically and lyrically. The hushed aura that greets it is a delicious precursor to the magic that lies in store.
Since releasing his superlative debut album, 'Learning', in 2010, Perfume Genius – aka Mike Hadreas, tonight playing as part of a trio – has quietly (everything he does is quiet) amassed a loyal pocket of followers, as is evidenced by the legitimate sell-out crowd tonight. His follow up this year, 'Put Your Back In 2 It' retains all the vulnerable beauty of its predecessor whilst incorporating a hardened determination to overcome life's adversities. It is, however, the sheer, direct openness with which he is able to translate these records into a real, live performance that is so utterly breathtaking. There is a complete absence of performance in Hadreas' work, even more so in person, such that if the songs weren't as powerful as they are, the candour might even get uncomfortable at times.
Opening with 'Gay Angels' and 'No Tear' is enough to set the tone for the rest of the evening, but things elevate a level further with 'Lookout, Lookout'. Cryptic lyrics that uncover the grisly story of Geordie murderer Mary Bell mirror a harrowing ghostly melody to paralysing effect. It may be true that Hadreas knows very well what he does best, but few people do anything this well, so he can be forgiven for making a virtue of his strengths at this relatively early stage in his career.
On we go through the treasures of his songbook – 'Awol Marine' and 'Learning' standing particularly tall – with keyboard, synthesiser, guitar and harmony vocals all moaning and hushing as one behind the desolate, delicate voice of Hadreas. All too soon an hour has passed, and 'Sister Song' has closed the set just as poignantly as it does the new album. The trio have only left us for a number of seconds however before they return straight into perhaps the most personal of all Perfume Genius songs, 'Mr. Peterson'. The autobiographical story of a sexual relationship between student and teacher that ends: "when I was sixteen/he jumped off a building/Mr. Peterson/I know you were ready to go/I hope there's room for you up above/or down below." It is typical of the honesty of Hadreas' songwriting, and as intoxicating as it is haunting. A more consoling note to end the night is reached with 'Katie', and as eyes are wiped dry throughout the Deaf Institute, the audience is united in affection.