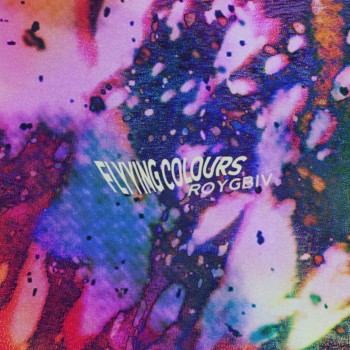 Shoegaze is back! Grow that fringe (I only wish I could)! Not everyone will be doing cartwheels at the return of the 'scene that celebrates itself', but I have to admit to becoming quite giddy at the prospect of seeing Ride later this month at the beautiful Albert Hall. Club AC30 are no strangers to the genre's resurgence and have been busy searching for up and coming talent across the globe, via St Petersburg for Pinkshinyultrablast and now Down Under to seek out Flyying Colours.
ROYGBIV is the Aussie four-piece's second EP following their spellbinding self-titled debut released in late 2013. The title and vibrant cover art promise a kaleidoscope of ideas – 'I Don't Want To Let You Down' slowly amps up the familiar fuzz, but then the drums pick up the pace and launch us surprisingly into chart-friendly territory. Think Snow Patrol but in an alternate universe where the distorted soundwaves of My Bloody Valentine take centre stage. It's a little bit direct for me, although luckily the squalling feedback soon gives way to 'Running Late', the depth of sound of which is more of what we have come to expect from Flyying Colours. The lush and sugar-sweet layers of guitar – reminiscent of The Vines – are intwined with the regretful words of Brodie J Brummer and Gemma O'Connor: 'I'm running late again, I've let down all my friends'. No rush though is there? Not when you are caught up in this heady whirlwind.
Recent single 'Not Today' is undeniably the highlight of the record, the 3 and half minutes of which flies by in a constantly shifting, almost trippy slice of pop, much like The Dandy Warhols in their prime. I can't see this soundtracking a Vodafone advert however, thankfully. A persistent pulsating motorik beat drives 'In the End', borrowing from krautrock contemporaries Toy, however the delightfully sweet vocals of O'Connor provide relief and add fresh brush strokes to the already vivid canvas of ROYGBIV.
Aside from playing havoc with our Auto Correct function, Flyying Colours have been content to make things easy for the listener so far, their offering a smooth and mesmerising treat. But on the closer, the band try something slightly different with 'Leaks'. The hypnotic groove and widescreen sound recall former Club AC30 mainstays Exit Calm and the steadily rising bassline is soon washed over with the delicate harmonies of Brummer and O'Connor making for a rousing finale. The only disappointment for me is that the track ends too prematurely just as we are reaching lift-off.
Despite the opener's earnest intentions, I ultimately feel slightly let down by this EP. The Melbourne quartet's first offering set a high standard and was awash with hazy psychedelic nuggets which enveloped you like a cosy blanket, representing an instantly recognisable and familiar shoegaze sound. Whilst I see the need to diversify to avoid the Flyying Colours brand being too formulaic, I didn't find ROYGBIV as such an immersive experience and I was left wanting more. Maybe that's the idea. They're certainly worth keeping an eye on as they tour the UK this month.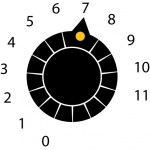 Release Date 12/05/2015 (Shelflife Records)
Flyying Colours Official | Facebook | Twitter | Soundcloud