It was an overcast Thursday afternoon when I met Cucamaras over a Zoom call, the four lads dripped in one by one and assembled for the interview. Having done my research, I was excited to interview them about their massive step forward for the band sonically and lyrically. What do you think of when you hear the words post-punk? You may think of bands like Fontaines DC, The Murder Capital, and of course IDLES. But prepare to hear a new name amongst the resurgence of post-punk that is taking the UK by storm, and that name is Cucamaras.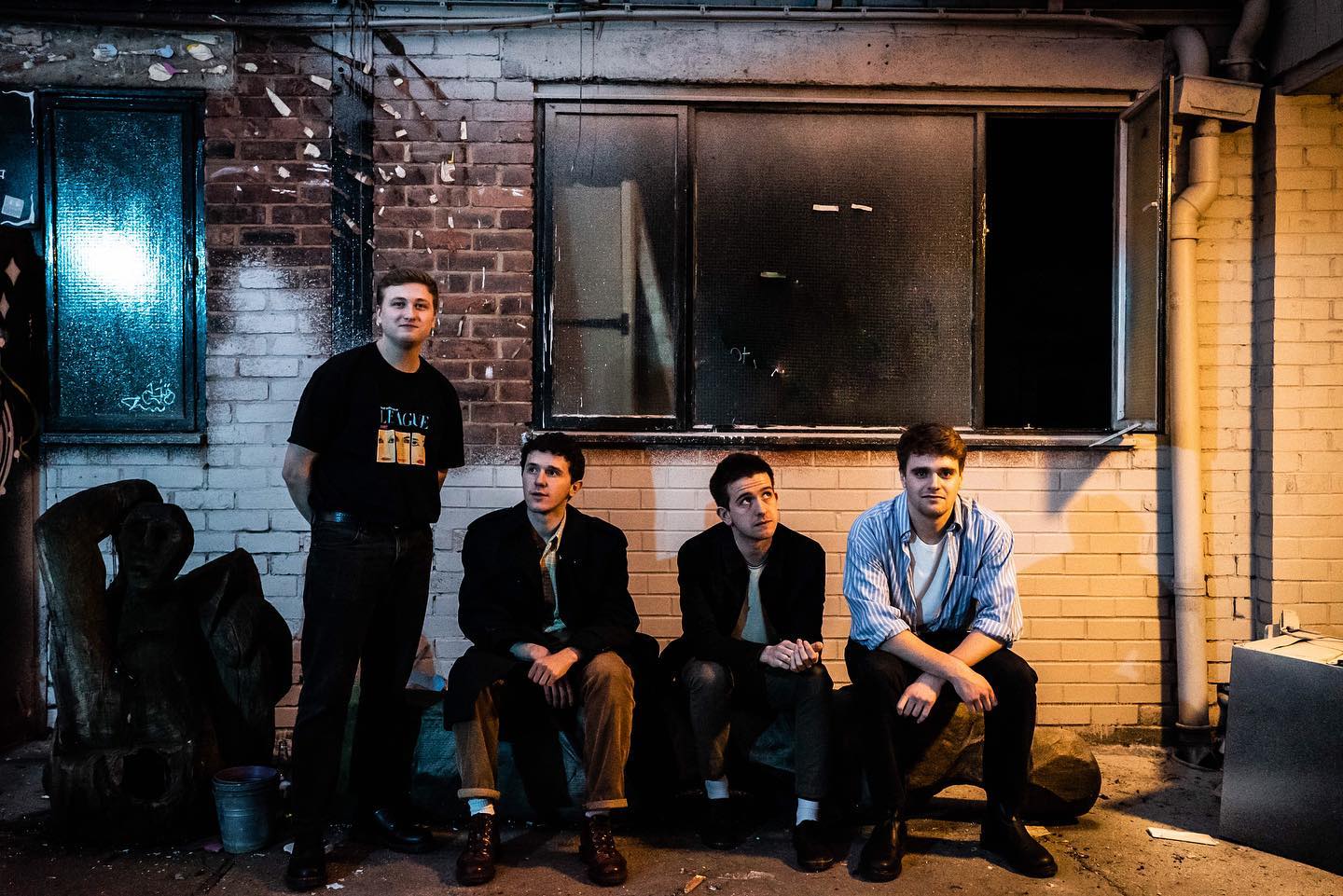 Cucamaras is a four-piece from Nottingham, fronted by Olly Bowley and other members Josh Hart, Dan McGrath, and Joe Newton. The band have been going through a sonic evolution, and have dropped the shackles of indie rock and are now firmly in the gritty and exciting world of post-punk.
"I think we're definitely tapping into that because I think we became disillusioned with indie music, to be honest. We fell out of it with a good cause" said Olly of the genre as a whole.
The move to post-punk is a much more exciting one:
"post-punks got this really like angry, gritty sound to it that we absolutely love at the minute you know, like Murder Capital, and Fontaines that kind of vibe" says Josh.
The new direction is positive amongst the lads, feeling much more assured and passionate about the new direction. That brings us to the track itself, 'Death of the Social' is an excellent piece of energetic post-punk that combines creative lyricism along with the power of a ten-tonne truck. The track came about from a trip to Paris before lockdown, while the lads were on the return trip and Josh was throwing ideas at Olly on a thirteen-hour bus ride back to Nottingham and charged him with coming up with the lyrics for the song. The main idea was to make something that cut through, and according to Olly the best way to do that was:
"putting it really starkly in like a really punchy song just seemed like a simpler way to get that across"
The lads clarified that the creation of the song took place before l*ckdown, and has nothing to do with l*ckdown, just in case people thought it may become a l*ckdown anthem.
The track is actually around young people and the lack of socialisation, how people don't appreciate being in a room together anymore. Over lockdown itself the lads have been keeping busy, with Olly and Dan taking walks to the picturesque Newstead Abbey. Joe has been working at a call centre and Josh has been writing music, which leads us to 'Death of the Social'.
There were fears that the band would alienate their current fanbase by putting out the song, but they are trying to ease the audience into the new sound slowly, instead of just throwing out an EP. Dan said that:
"this is sort of that we've kind of said like this is the heaviest song we've got so far, and actually it's a proper change; so to chuck an EP out of stuff that's sort of similar, granted you pull some people over but we might lose a few people."
The band may present their new sound as a darker, grittier step forward but the lads themselves are chatty, jokey, and most of all very pleasant throughout the interview, this is especially true when asked about their best gig. An infamous gig in Hyde is mentioned, which was their only shocker of a gig, after originally going to play Maida Vale according to Josh, and quickly in a deadpan manner band member Joe says "And the next best thing was Hyde."
The band have much more positive memories of other gigs though, especially Rough Trade in Nottingham:
"I think that was my favourite for sure, Beat the Streets Rough Trade in Nottingham" says Olly.
Other favourites include the infamous Rescue Rooms also in Nottingham.
In terms of what the future looks like, it appears that streaming and getting press attention is the main focus in the short term, and the return of gigs is on the cards. With this, let's hope we can get to hear 'Death of the Social' live and witness the explosion of this bright, young band who are destined for so much more.
 Cucamaras Twitter | Facebook | Instagram