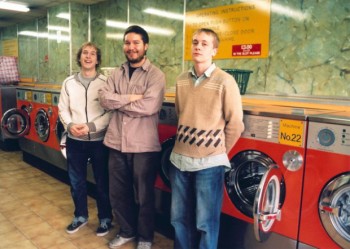 – TAKK COFFEE HOUSE, MANCHESTER –
Having only found out the location for this secret gig the day before, I enter Takk, a coffee shop on the edge of Manchester's Northern Quarter, with a  little trepidation. The most common adjective used to describe this area is 'trendy'. Well this is the closest physically I've ever been to a band and while you wouldn't say they look anything but trendy they certainly do look incredibly ordinary. The opposite can be said for the music: It's not pop, it's not rock roll and it's not run of the middle indie. They manage to be hip indie chic whilst displaying an almost square lack of fashion sense. The Wave Pictures are authentic musicians and a three-piece in every way the antidote to an anodyne and rampantly commercial music scene.
Hence their decision to play three tiny venues is commendably Corinthian. The 45 strong crowd they attract is typical Northern Quarter twenty something's who are in the main either bearded or bespectacled with not a 'belieber' in sight.
First song I catch has a hauntingly American feel to it and is sung by the drummer  "these are the days that will drive me insane" – appropriate for drummer? The next track starts with a Deliverance feel to the intro and settles into an upbeat rhythm typical of the Wave Pictures distinct far away lyrics and intense pace. It takes a while for the crowd to get going but this does the trick.
Lead singer and guitarist, David Tattersall, invites requests and looks genuinely surprised and delighted that anyone would have a favourite. They duly start up 'Without Feathers'. It's a contrast from the previous high tempo number featuring soft guitar plucking only, no drums and is almost acapella by comparison, showcasing the bands versatility. At the end of each track he seems genuinely thankful and slightly startled that the crowd express their appreciation. Tattersall looks like your hapless mate that never has any luck with the ladies but man can he play the guitar and pen a lyric. One reviewer likened him to Jack White which is appropriate for his strumming skills but lyrically he's beyond comparison. Who else could come up with the simile: "The Sun came in like a pack of orange of spangles".
Next "Susan Rode the Cyclone Off the Tracks" builds slowly and when you're stood within spitting distance of the band with only a few people around you feel too self-conscious to really boogie. Nevertheless this gets a few hips shaking.
All the requests are for less upbeat songs culminating in "When I Leave You for Somebody Else" and it occurs to me that if you're a fan of the angst filled love song and poetic melancholy in one beat and then cheeky and witty observation in the next, this is the band for you.
This is easily the most intimate gig I've ever been to and we are treated to stories and banter that I suspect we wouldn't get at The Apollo: "One time in long airport queue Jonny fell asleep standing up and I thought  that phrase 'slept like a baby' makes no sense whereas I slept like a drummer does". As it happens 'Just like a drummer' is one of my favourites from the 2010 album 'Instant Coffee Baby" which along with any live gig of this band, I heartily recommend.