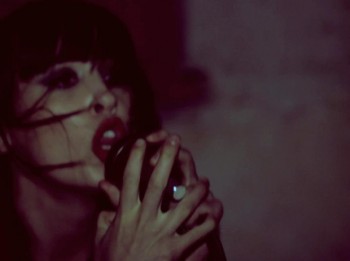 – THE RUBY LOUNGE, MANCHESTER –
Findlay, the newest face of rock n' roll in the UK is quickly gaining notoriety as one of Manchester's best-kept secrets. The 21 year-old singer toured with Jake Bugg in November and thrilled audiences with what can only be described as an electrifying stage presence. Before I endlessly compare her vocal talent just as everyone else has to the likes of the late Ms. Winehouse or Alison Mosshart of The Kills, I'll put Findlay into a category of her own because wow, let's just say this girl has killer pipes and I'm about to witness the magic in the flesh.
In case you haven't been in the Ruby Lounge, imagine a dark, enclosed little basement bar with a stage tucked around one of its creepy black corners. For a sold out gig, I'm all too surprised about the decent amount of breathable air left in this place. Tonight's crowd is comprised of a more mature audience, without a doubt family and friends who are all thrilled to watch their rising starlet play to her hometown.
I grab a drink and approach the stage where it becomes most evident that one of Findlay's supporting acts are suffering through what seems like an unlucky set. They are spiralling into a domino effect of mishaps involving microphones stands falling, followed by amp difficulties and other minor setbacks. I've lost interest and I only just got here. As for myself and a fair few other souls about to walk out for a bar break and mingle, this becomes the best bet in attempt to let them do their, ahem, thing. I'll give the band the benefit of the doubt, but as we all know… practice makes perfect, kids.
At last, Findlay creeps on stage at ten to ten draped in a boxy, brown fur cloak, smirking through the darkness as she picks up her microphone and begins a gravelly ballad, tapping her mic with two fingers in sync with a heart's beat.
The band draws energy from the crowd and fills the speakers with 'Fever' driven by Findlay's prowess dominating the stage.  She motions while singing "Run, Run, Run me down" in a sultry yet fierce manner captivating the lads in the house tonight as after all, she is only within touching distance of the front row.
The luring strums at the beginning of 'Off & On' resemble none other than the blues-rock driven lick of Jack White. "You might know this one" smiles Findlay as that familiar chugging 'I'm A Man/Jean Genie-esque' riff begins on the super-sexy track 'Your Sister'. "Your sister's not your sister, I've seen the way you kiss her" are a cheeky additive to the song's catchy flavour.
Throughout her fourty minute performance, Findlay is nothing short of striking. Her Motown inspired vocal soul power excels on tracks like 'Gin On The Jukebox' and the slower 'Infinite', and not to mention the precision of her band's playing is most impressively polished and on cue.
The attitude, the smirk, the sex appeal – you can tell this girl is going to be big. She's got it all: the vocals and the mystery.  After a performance like that, it's easy to see what all the fuss is about, so you better not miss this vixen next time she's in town.