– GORILLA, MANCHESTER –
It's difficult to see where Natalie Findlay's immensely powerful voice emanates from. 3 guitarists are needed to keep her on check. The late 90's post-punk playlist fades, and smoke fills the stage, as her band members enter this almost full venue to 'Down In Mexico' by The Coasters; a song recently revived by Quentin Tarantino in Death Proof's infamous lap dance scene.
This is something of a homecoming for the Stockport girl who has relocated to London. The crowd welcome her warmly as she strolls out in a fetching, trademark catsuit. She appears slender, feminine, and incredibly attractive, but beware – her vocals pack one hell of a punch. A shout of "I love you" cry's out while she's singing a  stunning acapella intro… the sombre mood that she had created to that point is steadily replaced by infectious laughter. The singer herself can't help but break character and smile, adding "I love you too" to the lyrics of the song. She's also receiving text messages from her proud Dad, throughout. The family are in the house.
She sings "My sweetheart doesn't like rockabilly…" but it's apparent she does, as well as a variety of other forms of rock from the last 50 years (Silent Radio interview with Findlay from June 2013). "I'm just a girl with a microphone" – recent B-side 'Electric Bones' is followed by 'Your Sister', a song that grew from a film noir script.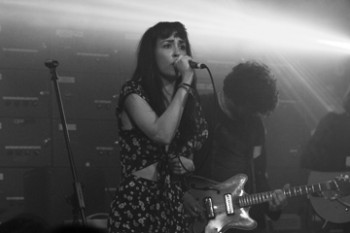 With only a couple of singles and EP's to their name, this and their recent London gig are being used to showcase new material from the forthcoming debut album. 'Silver moon' (I could be wrong with the name) amble's along more gently than previous material, but springs to life dramatically, and ends softly. She loves to wail and can't be restrained for long. Another new one, possibly called 'Evelyn'? is followed by recent single 'Wolfpack' – armed with a poppy chorus powerful enough to galvanise any festival crowd.
Interpol, Yeah Yeah Yeahs and The Strokes were playing before this set, seemingly as a hint towards what was to come. Karen O is the closest artist that I can compare Findlay to, as well as maybe Be Your Own Pet, with a touch of Franz Ferdinand.
The final 5 songs are superb – Natalie grabs her acoustic guitar for 'Stoned and Alone' (not a Hank Williams III cover). 'Sunday Morning In the Afternoon' slow things down before the anthemic 'Greasy Love' bursts into life, with backing vocals supplied by most of the audience. For the encore, 'Wild and Wise'  also impresses – this is the first time I, and possibly most here, have heard it… and then they hit us with the Mortal Kombat finishing move of a tune that is 'Off & On' (from the BMW ad) – they pause before the chorus, teasing the crowd, and then launch into it, creating a manic mosh pit. Natalie leans over the stage, pouring petrol on the inferno, never appearing worried that she could shred her vocal chords. She drops the mic and walks off. 'Bring Me Sunshine' plays, and the house lights rise to expose our beaming, sweaty faces.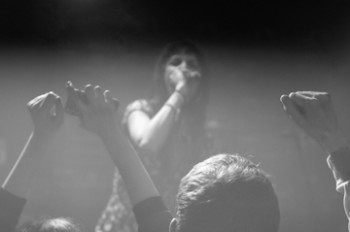 Findlay have a credible, powerful front-woman, who writes intriguing and thrilling tunes, with addictive, anthemic choruses and tons of energy. And that voice… wow, that voice. They successfully worked the crowd into a frenzy, while showcasing new material, leaving us wanting more in anticipation of the debut LP. That's no a easy feat. Findlay appear to have everything that's needed to go very far indeed, blending a sound that would keep critics, musos, and a wider audience happy, through great songwriting and adrenaline fuelled mischievous fun. Earlier, she admitted she felt uncomfortable if the crowd weren't dancing – a mindset that could drive her to great things.
Findlay  Facebook | Twitter | Youtube