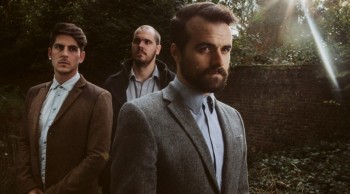 – THE ROADHOUSE, MANCHESTER –
Arcane Roots are no strangers to the road, in fact this is about their third visit to Manchester in the past year. The Kingston-based trio have been working hard on the live circuit which is not a bad thing at all, but with the Manchester shows having been modestly attended, I'm hoping that our city steps things up to tonight and gives this excellent band a full room. Luckily, they do, and what is even nicer is that The Roadhouse is the place where I saw Arcane Roots a few years ago, before they became a household name, supporting Scott Rockers Suciperro, so it's cool to be back to see them headline to a packed out room.
The set tonight is all about the EPIC factor. Songs are jammed out, extended, mixed with snippets of older songs, which I'd expect nothing less from a band who seem so thoughtful in the way they approach their songs and live shows. They open with new single 'Over and Over' which has this joyously uplifting chorus and is just a great slice of power pop. Former single 'Slow' closely follows, which sparks a mass sing-a-long as the crowd mosh, jump and crowd surf, making this seem like a proper sweaty, passionate rock gig from back when I was a keen mosher! But after a relatively steady start to the set, the trio then delve into their huge, head banging riffy tunes ('Sacred Shapes' / 'Energy Is Never Lost'). These tracks really kick things off, full of time signatures, breakdowns, as well as some strong vocal work from superbly talented frontman Andrew who sings as if his life depends on it despite the crowd singing every word back to him.
It's great that earlier tunes like the Biffy-esque 'You Are' and the Blakfish influenced 'Million Dollar Question' are set firmly in the live show and played with as much conviction as they were when I first saw them. Even though the crowd may have increased since those early days, it seems that people really believe in this band and want to get into their earlier records and submerse themselves in their brilliance. As Andrew acknowledges the crowd for finally making their Manchester trips more worth while, the band rip into the ultimate epic 'You Keep Me Here'  and  the last track from last year's awesome debut LP Blood and Chemistry, which leaves the crowd with baited breath, hungry for an encore. Tonight Arcane Roots were given the rowdy crowd they deserve, and as one guy next to me excitedly screams "They're gonna be massive," I couldn't agree more.